Actin software enables fast time-to-market and key collaborative features for ease-of-use, performance and safety
Cambridge, Massachusetts (November 28, 2017) - Energid Technologies today announced that Hans Robot, a subsidiary of global Chinese manufacturer Hans Laser, has licensed Energids Actin® premier control software for its new line of cost-effective collaborative robots ("cobots"), called Elfins. Actin is an easy-to-use robot control and simulation framework that offers robot manufacturers faster time to market, reduced software development costs, and powerful control with real-time adaptive motion. These are critical success factors in the competitive cobot market that is forecasted to grow at 60% CAGR and reach over $3 billion USD by 2022.

Unlike traditional industrial robots, collaborative robots are designed to work safely side-by-side with humans. Key characteristics include built-in safety features, easy programming and use, and low up-front costs, making cobots accessible for a much wider range of applications than traditional robots. In this competitive and demanding market, the Actin control software allowed Hans Robot to quickly introduce its first Actin-enabled cobot. The Elfin 5, with a 5-kilogram payload, is the first in a planned portfolio of cost-effective, Actin-enabled industrial robots.
"Compared to other solutions, the ease-of-use and power of the Actin framework is exceptional," said Guangneng Wang, CEO of Hans Robot. "By leveraging Actin to build the real-time robot controller, our engineers were able to focus on the Elfin hardware and bring our new robot to market quickly and cost-effectively."
Actins patented control architecture provides smooth, fluid motion for the most complex robotic systems with a simple task-based user interface. Hans Robot was able to leverage powerful collaborative features including collision avoidance, simplified task-based programming, interactive control, and the ability to extend, customize, and rebrand any of the components for advanced product differentiation. This focus on performance, flexibility, stability, and portability makes Actin the ideal control solution for new robotic systems, with any number of degrees of freedom or joint types.
"Rather than creating a robot control system from scratch, Hans Robot was able to use our adaptive software and configuration tools to enable a complete motion control solution," said James English, CTO of Energid Technologies. "Hans Robot can add new product offerings to its line of collaborative robots without needing to reprogram the control system."
Energid provides robotic control systems for a wide range of global customers, from startups to Fortune 50 companies, to help them develop and launch competitive robotics products quickly and cost-effectively.
"The robotics market in China is the largest in the world and growing, and with our software Hans Robot will be able to bring new and competitive collaborative robots to manufacturing customers who need them," said Neil Tardella, CEO of Energid Technologies. "This licensing agreement is another proof point for Actin, and is one of many licensing agreements we will be announcing."
More information about Actin software can be found at http://www.energid.com/software/overview.
About Energid Technologies
Energid Technologies develops advanced software and robotic systems for the agriculture, manufacturing, transportation, exploration, and medical industries. Energids Actin® software is a powerful control framework and operating system for commercial, industrial, and mission critical robots that is sold as a cross platform application and extensible software toolkit. Energid specializes in the sensing, control, and simulation of complex systems.
© 2017 Energid Technologies Corporation. All rights reserved. Actin and the Energid logo are trademarks of Energid Technologies Corporation.
Featured Product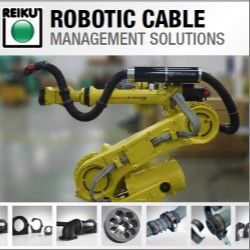 REIKU's Cable Saver™ Solution eliminates downtime, loss of revenue, expensive cable and hose replacement costs, maintenance labour costs. It's available in three sizes 36, 52 and 70 mm. All of the robots cables and hoses are protected when routed through the Cable Saver™ corrugated tubing. The Cable Saver™ uses a spring retraction system housed inside the Energy Tube™ to keep this service loop out of harms way in safe location at the rear of the Robot when not required. The Cable Saver™ is a COMPLETE solution for any make or model of robot. It installs quickly-on either side of the robot and has been tested to resist over 15 million repetitive cycles.