• Skypod Robots move 4 times faster, 5 times higher than current industry standard • System handles twice the number of picks per hour • Skypod Robots deployed at Cdiscount warehouse
Paris, France - December 7, 2017 - Exotec Solutions, a French AI robotics startup, today announced the launch of the Skypod Robots and associated system. Cdiscount, the top French e-commerce vendor, is now using Skypods to prepare orders in its warehouse near Bordeaux, increasing their order processing speed by x4. With the system, Cdiscount is able to handle 400 picks per hour compared to the industry average of 200 picks per hour (with classical automation), and 100 picks per hour manually.

The Skypod system is the first order preparation system in the world to use 3D mobile robots. Capable of movement in 3 dimensions at a speed of 10 mph, the robots transfer goods in the warehouse to human operators who arrange the products to be packed and shipped to customers. Laser scanner navigation allows the robots to travel anywhere in the storage area carrying 60+ pound bins.
"E-commerce is changing the game in the logistics industry. To respond to today's market requirements, companies are putting the emphasis on deployment speed and flexible deployment capability rather than heavy fixed infrastructure in order to best respond to rapid fluctuations in demand. The Skypod addresses the needs of a new generation of customers who are looking for high performance and high density systems that can be modified every 2 years," says Romain Moulin, CEO of Exotec Solutions.
The logistics industry is valued at $10.5 trillion globally and is projected to reach $15.5 trillion by 2023. Within this market, e-commerce logistics is predicted to grow 23% in 2017. Modern logistics face the dual challenge of performance and agility in a fast moving market, while ensuring the preparation of thousands of orders per day, for same-day delivery.
Compared to shelf-mover robots, used by e-commerce major vendors, the Skypod sets a new standard by moving 4 times faster and 5 times higher.
"From inception, the system has been designed to ensure fast deployment and full scalability. Skypods free navigation allows the robots to travel anywhere within the system, something the competition cant offer today. The systems software is powered by the latest artificial intelligence, allowing us to deploy on site within days instead of weeks," says Renaud Heitz, CTO and cofounder.
In December 2016, Exotec raised $3.5million from 360 Capital Partners and Breega Capital.
About Exotec Solutions
Founded in 2015 by former GE Healthcare robotics architect Romain Moulin, and former GE Healthcare software architect Renaud Heitz, Exotec Solutions offers cutting edge mobility technologies. Exotecs technologies have been tested with success in some of the most demanding industries such as the medical sector. They bring agility and flexibility to the booming logistics industry. www.exotecsolutions.com
Featured Product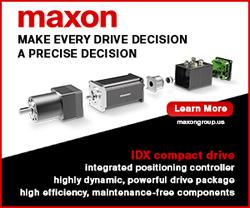 Discover the world of drive technology from a leading worldwide supplier of innovative customized drives. - Manufacturer of brushed and brushless DC motors, gearheads and motion controllers - Custom drive systems, quantities as low as a single unit - Certified for aerospace and medical applications