Featuring exoskeleton from suitX and mobile robot from Motiv Robotics!
Peabody, MA, January 2, 2018 -Harmonic Drive LLC, a leader in high precision motion control will be exhibiting at CES 2018 in Las Vegas in the Robotics Marketplace in South Hall, booth 25843. Harmonic Drive® products are relied upon every day throughout the robotics community. Come see a live demo of the RoboMantis mobile robot from Motiv Robotics. Attendees will also get an up-close look at the Phoenix exoskeleton suit from suitX.

We are thrilled to welcome the folks from Motiv Robotics with their RoboMantis mobile robot. This robot has been designed to perform in a wide variety of environments and to virtually extend a human presence into inhospitable places. The hybrid mobility system integrates both wheeled and quadrupedal locomotion modalities allowing the robot to traverse practically any terrain efficiently.
Motiv Robotics, located in Pasadena, CA is a renowned provider of advanced robotic systems for industrial application, disaster relief, defense systems and extreme environments. For more information, visit: motivrobotics.com
Harmonic Drive is also excited to welcome the team from suitX with their Phoenix exoskeleton. The Phoenix exoskeleton is the world's lightest and most advanced exoskeleton designed to help people with mobility disorders to be upright and mobile. In the clinic, at home, and in the workplace Phoenix has successfully enabled many individuals to stand up, walk about, and speak to peers eye-to-eye. Come see this life-changing exoskeleton.
Harmonic Drive will have several samples of our high-performance gears and actuators on display. We will be premiering our upcoming ultra-flat actuators, ideal for mobile robots and exoskeletons. Stop by for a sneak peek! We will also be showcasing some of our new products such as the zero backlash, ultra-flat CSF-2UP gearhead! The CSF-2UP mini gearheads are ideally suited for small robots or manipulators requiring an ultra-compact solution. The new high-torque, zero-backlash gear units have an ultra-flat configuration and feature a large cross-roller bearing with high-moment stiffness.
About Harmonic Drive LLC
Harmonic Drive, LLC engineers and manufactures precision servo actuators, gearheads and gear component sets. We work closely with both Fortune 500 and companies of all sizes to understand their application requirements and provide a standard or, in most cases, a custom-engineered solution to enable the success of their design project. The majority of the products sold by Harmonic Drive, LLC are proudly made at our manufacturing facility in Peabody, Massachusetts. Harmonic Drive Group Companies in, Japan (Harmonic Drive Systems, Inc.) and Germany (Harmonic Drive AG) provide additional products. State of the art manufacturing facilities in the US, Japan and Germany enable us to locally serve the needs of our global customers.
With over 50 years of experience, our expert engineering and production teams develop enabling technologies and products to meet the needs of an evolving motion control market. We are very proud of our outstanding company history. Our high-precision, zero-backlash Harmonic Drive® gears and Harmonic Planetary® gears have, and continue to play critical roles in robotics, spaceflight applications, semiconductor manufacturing equipment, factory automation equipment, medical diagnostics and surgical robotics. More information can be found by visiting the companys main website at www.harmonicdrive.net
Featured Product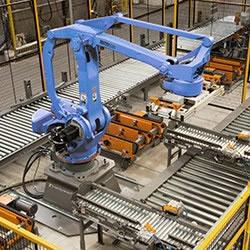 Honeywell Intelligrated has deep experience implementing robotic solutions that work seamlessly with existing automated equipment and is recognized by the Robotic Industries Association as a certified robot integrator. The company's extensive robotic integration capabilities include solution development, design engineering and project management, complete manufacturing capabilities, installation and commissioning, and lifecycle support services.