Chicago - HANNOVER MESSE USA, the newly branded North American industrial technology trade shows co-located at IMTS 2018, will feature 130,000 square feet of exhibition space and special display areas. This marks a 44 percent increase compared to the co-located shows total floor space at IMTS 2016. For the first time since the co-located shows launched at IMTS 2012, the exhibition space and three special display areas will be located on two floors of the East Building at McCormick Place from September 10-15. HANNOVER MESSE USA is organized and managed by Hannover Fairs USA (HFUSA), the U.S. subsidiary of Deutsche Messe, organizer of HANNOVER MESSE - the worlds leading trade show for industrial technology.

During IMTS 2018 on level three of the East Building, HANNOVER MESSE USAs Integrated Automation, Motion & Drives USA (IAMD USA), North Americas leading trade show for Integrated Automation, Industrial IT, Power Transmission and Control, will cover more exhibition space than ever before. Located alongside IAMD USA on level three will be the Fluid Power special display area.
On level two, the other three HANNOVER MESSE USA co-located trade shows - ComVac USA, Industrial Supply USA and Surface Technology USA - will take place alongside the events Digital Factory and Industrial Energy Systems special display areas. Both levels two and three will feature educational presentations on the show floor and in the special display areas. Corresponding educational conferences will again be featured at IMTS 2018, including the Global Automation Manufacturing Summit (GAMS), co-organized by CFE Media and HFUSA, and the Integrated Industries conference, organized by HFUSA.
"As we have done since launching the industrial technology shows at IMTS 2012, HANNOVER MESSE USAs trade shows will leverage the power of the HANNOVER MESSE brand by demonstrating the full range of Industry 4.0 and Industrial Internet of Things (IIoT) solutions during IMTS 2018," said Larry Turner, President & CEO of HFUSA. "We also expect to extend the overall scope and global nature of the co-located shows this year by highlighting more exhibitors from around the world in our international pavilions, including China, Germany, Italy, Korea and Taiwan," added Turner.
Leading the HANNOVER MESSE USA 2018 management team is Chicago-based Adrienne Zepeda, Show Manager of North American Industrial Technology Events at HFUSA, and Raymond Bianchi, Vice President of Events & Business Development at HFUSA. Supporting Ms. Zepeda and Mr. Bianchi is Alex Balis, Audience Development Manager at HFUSA.
"Our entire HFUSA team is working extremely hard to make sure that our overall HANNOVER MESSE USA event strategy aligns perfectly with our exhibitors goals and our attendees trade show expectations," added Turner.
"I am very excited to be a part of the launch of the world renowned HANNOVER MESSE brand to the North American advanced manufacturing space at IMTS 2018," said Zepeda. "We are adding a number of very unique educational topics and displays on the floor this year, which certainly will enhance visitors overall experience."
About HANNOVER MESSE USA
HANNOVER MESSE USA will be produced alongside IMTS 2018 from September 10-15 at McCormick Place in Chicago. HANNOVER MESSE, the worlds leading industrial technology show launched 70 years ago in Hannover, and HANNOVER MESSE USA are at the forefront of showcasing innovations in the factory of the future: cobots, industrial energy systems, Industrial Internet of Things (IIoT), Industry 4.0 and related applications such as predictive maintenance, more efficient use of raw materials, faster time to market, and other trends in industrial manufacturing.
About Hannover Fairs USA
Hannover Fairs USA, Inc. (HFUSA) is the U.S. subsidiary of Hannover, Germanys Deutsche Messe - one of the worlds largest and most active organizers of industrial technology events. Chicago, Illinois-based HFUSA helps U.S. companies expand domestically and internationally through exhibit and sponsorship opportunities at Deutsche Messes worldwide portfolio of events. Participation in these events offers U.S. companies an unparalleled opportunity for business development through trade shows and conferences held in Hannover, Germany and North America, as well as in key markets such as China, India, Mexico and Turkey. HFUSA creates qualified new business leads, helps U.S. companies enter new markets and aids them in forming lasting partnerships.
Featured Product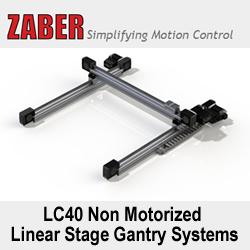 A Zaber gantry kit comes with everything you need to build a customized XY gantry system or XYZ gantry system. These gantry systems feature coordinated multi-axis motion, plug-and-play operation, easy integration with end-effector options, and built-in IO and E-Stop capabilities. An intuitive ASCII interface allows the user to easily communicate with the gantry systems using our free software, either Zaber Motion Library with APIs for several popular languages or Zaber Console. Third party terminal programs that can communicate over a serial port can also be used.