Organization Emphasizes Diversity and Economic Growth in Keynotes
ANN ARBOR, MI - January 4, 2018 - The Association for Advancing Automation (A3) announces the keynote speakers for its annual A3 Business Forum, taking place January 17-19, 2018, in Orlando, Florida. A highlight of this years event is a keynote from Physician, Scientist and 3D Innovator Dr. Julielynn Wong. Wong will be sharing with attendees how they can provide opportunities to women and minorities to diversify their workforce. Increasing diversity in the automation industry is important to its future growth and sustainability. With less than 30% of the manufacturing workforce being women, this topic is one that needs to be addressed, according to A3.

"Our members have come to rely on the A3 Business Forum to help them remain competitive in the global market," said Jeff Burnstein, president of A3. "By featuring speakers that are the best in their fields, attendees are given the most up-to-date, in-depth information available about automation trends and issues that are important to them, and right now filling open jobs is a big priority. It is projected that there will be nearly 3.5 million manufacturing jobs in the next decade, two million of which will go unfilled. Diversifying the workforce is a big step in the right direction to fill the gap. That is why weve chosen to make that one of the focuses of this years event."
Forum highlights include:
• Mike Rayburn, Hall of Fame Motivational Speaker. "What If?" Wednesday, January 17, from 5:15 p.m. - 6:15 p.m.
• Alan Beaulieu, Economist, ITR Economics. "Global 2018 Economic Outlook & Forecast," Thursday, January 18, from 8:45 a.m. - 10:15 a.m.
• Dr. Julielynn Wong, founder, Medical Makers. "From Fax Machines to 3D Printers and Drones: Automation at Warp Speed," Thursday, January 18, from 11:00 a.m. - 11:45 a.m.
• Eric ONeill, founder, The Georgetown Group. "Cybersecurity in the Age of Espionage," Thursday, January 18, from 4:30 p.m. - 5:30 p.m.
• Alex Shikany, vice president - AIA. "2018 Automation Market Update: Data, Directionality, & Developments," Friday, January 19, from 8:45 a.m. - 9:15 a.m.
• Future of Automation Panel. Featuring Mike Cicco, FANUC America Corporation; Ron Painter, National Association of Workforce Boards; Natalie Pierce, Littler and Jonathan Tilley, McKinsey. The panel will be moderated by Robert Huschka, Director of Education Strategies at A3. Friday, January 19, from 9:40 a.m. - 10:15 a.m.
Registration for this members only event is still open. To register, please visit the A3 Business Forum website: www.a3automate.org/a3-business-forum/
About Association for Advancing Automation (A3)
The Association for Advancing Automation is the global advocate for the benefits of automating. A3 promotes automation technologies and ideas that transform the way business is done. A3 is the umbrella group for Robotic Industries Association (RIA), AIA - Advancing Vision + Imaging, Motion Control & Motor Association (MCMA), and A3 Mexico. RIA, AIA, MCMA and A3 Mexico combined represent over 1,070 automation manufacturers, component suppliers, system integrators, end users, research groups, and consulting firms from throughout the world that drive automation forward.
Featured Product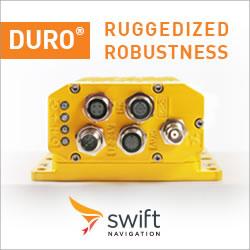 Duro® is a ruggedized version of Swift Navigation's Piksi® Multi RTK GNSS receiver. Built to be tough, Duro is designed for easy integration into existing equipment. This affordable, easy-to-deploy GNSS sensor delivers robust, centimeter-accurate positioning while protected against weather, moisture, vibration, dust, water immersion and the unexpected that can occur in outdoor long-term deployments.