Dibotics and XenomatiX have engaged in open collaboration to jointly elaborate the latest and most promising solution through a solid-state LiDAR data processing system.
The greatest obstacle in the way of autonomous vehicles is their ability to accurately and reliably collect and process environmental data that will keep passengers safe.

This is why, Dibotics and XenomatiX have engaged in open collaboration to jointly elaborate the latest and most promising solution through a solid-state LiDAR data processing system.
A real-time, solid-state LiDAR data processing system is necessary for allowing autonomous cars to be responsive and make sound judgments against high resolution data. By integrating LiDAR and efficient point cloud analysis software, this new solution will give autonomous vehicles the potential to process millions of data points per second through a rich 3D perception of the environment.
"Higher levels of automation of vehicles require a total solution for reliable 3D detection in all circumstances. By integrating the unique hardware and software technologies offered between our two companies, we believe that we can deliver a feasible mass production solution that will satisfy the needs of OEMs, Tiers1 and consumers." - said Filip Geuens, CEO of XenomatiX.
XenomatiX and Dibotics offer unique key building blocks in the solid-state LiDAR domain.
XenomatiX brings game-changing LiDAR hardware and sensor technology that meets the needs of challenging automotive requirements. This comes from their ability to combine a robust laser-based sensor with a high frame-rate detector to produce reliable 3D and 2D data for the detection of objects and free space.
Dibotics is using this XenomatiX data to create an embedded software solution that can keep up with the LiDAR sensor's rich data sets. It requires no additional input from IMUs, GPS or wheel encoders which simplifies the integration and development processes, creating a seamless computation of sensor data and real-time processing for autonomous driving.
"The seamless integration of LiDAR hardware and software technologies will play a key part in the future of the autonomous automotive industry. We're excited to begin a collaboration with XenomatiX and their team of open-minded researchers and technicians to find a practical solution to this effort." -Raul Bravo, CEO of DIBOTICS
Dibotics will be exhibiting at CES in Las Vegas from January 9-12, 2018 (Booth #CP-5, located in the Business France AutoTech Pavilion in the Central Plaza). Xenomatix will be exhibiting as a guest partner in the same booth.
Come visit them to learn more in depth about their collaboration and existing technologies.
About Dibotics
Dibotics is a Paris-based company offering innovation in real-time LiDAR processing. Founded by Raul Bravo and Olivier Garcia, two serial entrepreneurs with extensive experience of 15 years in LiDAR processing for mobile robotics applications, Dibotics has an original approach that differs from the traditional model. Its sensor-agnostic 3D SLAM technology (Simultaneous Localization and Mapping) and Augmented LiDARTM created the first solution allowing advanced features like point-wise classification, objects detection & tracking and calibration- less Sensor Fusion to be performed only based on the sensor data itself. All of this performs without requiring any learning (deterministic) and can be embedded in a small and low-power integrated circuit (SLAM on ChipTM).
For more information about the Augmented LiDARTM solution, please visit http://www.augmentedlidar.com
For sensors other than LiDAR (Radar, 3D ToF Camera, Sonar), please visit http://www.dibotics.com
About XenomatiX
XenomatiX is a Belgium-based company developing automotive LiDAR solutions. XenomatiX has been putting to work its vast knowledge of 3D LiDAR technologies to comprise a unique, solid- state vision system to be incorporated in autonomous vehicles. This technology has been evaluated and approved by leading automotive companies and promises to lead the world into an age of complete autonomous transportation. To do this, XenomatiX's laser-based, solid-state vision systems relies on a high resolution point cloud to accurately and reliably produce a real- time road profile of the environment and possible obstacles.
To learn more about XenomatiX's LiDAR technologies, visit http://www.xenomatix.com
Featured Product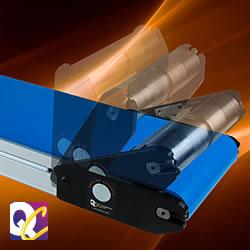 AS40 Conveyors are designed for ease of use and simple integration with robotic applications. Built on a rigid aluminum frame, they feature tee slots for rapid accessory mounting and a tail that flips up at the push of a button for easy under-belt cleaning and belt changes. Nosebar tails are available for transferring small parts between conveyors. All conveyors include a 10 Year Warranty and most are available with a fast five day lead time.