The Advanced Robotics for Manufacturing Institute (ARM) Board Announces Appointment of Dr. Byron C. Clayton as CEO. Interim ARM CEO Dr. Gary Fedder returns to Carnegie Mellon University.
Media Release

ARM Contact:
Suzy Teele
Head of Marketing & Communications
suzy.teele@arminstitute.org
cell: 412-310-5207 office: 412-681-8264
www.arminstitute.org
The Advanced Robotics for Manufacturing Institute (ARM) Board Announces
Appointment of Dr. Byron C. Clayton as CEO
Interim ARM CEO Dr. Gary Fedder returns to Carnegie Mellon University
January 9, 2018, Pittsburgh, PA - The Board of the Advanced Robotics for Manufacturing Institute has appointed Dr. Byron C. Clayton, an experienced leader in public-private partnerships and technology commercialization, as Chief Executive Officer. Dr. Clayton will succeed Dr. Gary Fedder, who has held the interim CEO role since early 2017.
The Advanced Robotics for Manufacturing Institute (ARM), founded at Carnegie Mellon University in January 2017 and now operating as an independent non-profit, won an $80 million grant from the U.S. Department of Defense to become the leading catalyst of robotics innovation and expertise to accelerate growth in US-based manufacturing and high value careers. ARM operates as part of the Manufacturing USA network, and is supported by an additional $173 million in commitments from more than 120 members and partners in industry, academia, technology, government and economic development groups. By creating a collaborative ecosystem of like-minded organizations, ARM is speeding the movement of industrial robots into commercial use, while preparing a labor force to operate and manage these technologies. ARM is an integral part of Pittsburghs strategy to define the future of the global manufacturing economy and will be the lead tenant at Hazelwood Green, a unique hub that will revolutionize U.S. manufacturing. The Heinz Endowments, Richard King Mellon Foundation and Claude Worthington Benedum Foundation joined forces in 2002 to purchase the Hazelwood Green property and to later work with Carnegie Mellon University and ARM to support this revolution.
"Advanced robotics has the potential to transform the entire manufacturing sector, and ARM is poised to provide global leadership in this historic shift," said Dr. Farnam Jahanian, interim president of Carnegie Mellon University and a member of the ARM Board of Directors. "Dr. Clayton is an outstanding choice to lead ARM in this next chapter, bringing both the leadership and the experience to help fulfill the vision for this landmark partnership among industry, government, and academia."
Dr. Clayton most recently served as the President and CEO of Research Park Corporation (RPC). RPC was formed by the Louisiana legislature in the early 1990s to help grow and diversify the innovation economy of Baton Rouge, Louisiana. Prior to this role, Dr. Clayton was based in Northeast Ohio, where he led regional innovation clusters in printed electronics, advanced energy and water technologies. In addition, he has more than 25 years of experience developing, commercializing and implementing advanced manufacturing systems and software for various industries. During that time, he facilitated the market entry of more than 40 high-tech products and systems, published articles in academic and trade journals, and received patents for manufacturing optimization software used by numerous production plants across North America.
"I am truly honored to lead and serve ARM as its new CEO", said Dr. Clayton. "It is incredibly exciting to join ARMs staff, members and partners in our journey to create a brighter future for American manufacturers and workers."
Professor Gary Fedder returns to his role as Vice Provost for Research (VPR) for Carnegie Mellon University, while remaining an active champion for ARM. Dr. Fedder will work closely with Dr. Clayton over the next few months to ensure a smooth transition of leadership.
"As CEO, Dr. Clayton is driving the next exciting chapter for ARM to build upon the considerable momentum gathered during its inaugural year. As VPR, I look forward to continuing to grow the opportunities in the research enterprise at Carnegie Mellon, which includes maintaining close interaction and the relationship with ARM." said Dr. Fedder.
Dr. Claytons appointment comes as ARM celebrates the start of its second year of operation, and at the beginning of an ambitious first quarter, during which ARM will announce the projects receiving funding from its first project call, release details for a second Education/Workforce project call, and unveil the organizations new website, branding, and member engagement platform.
###
Featured Product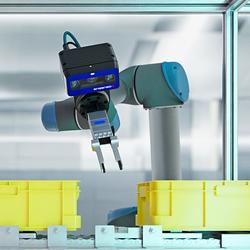 App Your Sensor®! What would smartphones be without apps? They would be mobile phones that can't do much more than make phone calls and sending SMS. Apps turn smartphones into intelligent assistants with any number of different tasks. Transferred into the world of image processing, this app-based approach transforms cameras and sensors into customised, smart vision sensors.