"The Modern Warehouse" campaign found within USA TODAY and online, helps supply chain executives invest in the best practices to meet business and warehousing needs in a more efficient, cost-effective, accurate and safe manner than ever before.
At the height of online ordering and at the speed of e-commerce today, Mediaplanet announces the launch of its first-ever edition of "The Modern Warehouse." This campaign is an educational guidebook for supply chain executives to invest in the best practices for improving warehousing operations to be more efficient, productive, cost-effective, accurate and safe than ever before.

The number of warehouses in the United States has risen 6.8 percent over the past five years due to the rise of e-commerce and cloud-based technology and the growing trend of manufacturers seeking to outsource their warehousing and logistics needs to third party providers. As technology advances, third party businesses are continuously seeking warehousing and logistics solutions that are capable of offering services beyond basic storage, yet over one-third of these business are still using traditional pen-and-paper methods of management. However, 52 percent of surveyed warehouse companies want to either upgrade existing systems or implement new management systems in the next two years to keep up with the rapid growth.
The print component of "The Modern Warehouse" was distributed within USA Today in New York, Seattle, Denver, Washington DC and Baltimore markets, with a circulation of approximately 250,000 copies and an estimated readership of 750,000. The digital component is distributed nationally, through a vast social media strategy and across a network of top news sites and partner outlets. To explore the digital version of the campaign, click here.
Amazon Robotics program manager and U.S. Airforce Veteran Tim MacFarlane graces the cover of the print publication. Through an exclusive interview within our center spread, Tim discusses his career evolution since serving in the military. "In my first role with Amazon, I saw an opportunity to improve how we moved robotic drive units in the facility and designed a tool that made the process more efficient and ergonomic. The company helped me receive a patent on that innovation, and now the tool is used across more than 25 fulfillment centers worldwide. Since that time, Ive progressed in my career and am now a regional program manager with Amazon."
Tim also discusses the importance for businesses across the country to implement a culture conducive for innovation in fulfilment centers, to empower employees and drive business forward. He explains, "We have found that innovation has no borders, and our best ideas have come from our fulfillment employees." He has found within his time at Amazon that implementing innovative technology, such as robotics and automation, has elevated the roles of employees. This relationship will help to drive the industry forward. He says of investing in these practices: "It creates more efficient processes and reduces order processing times, which means we can get items to customers faster."
This campaign was made possible with the support of the National Safety Council, Ryder, Universal Robots, UPS, ContiTech, The Association for Manufacturing Technology, Lowry Solutions, John Ratzenberger, Mike Rowe, Amazon and many more.
About Mediaplanet
Mediaplanet specializes in the creation of content marketing campaigns covering a variety of industries. We tell meaningful stories that educate our audience and position our clients as solution providers. Our unique ability to pair the right leaders with the right readers, through the right platforms, has made Mediaplanet a global content marketing powerhouse. Our award-winning stories have won the hearts of countless readers while serving as a valuable platform for brands and their missions. Just call us storytellers with a purpose. Please visit http://www.mediaplanet.com for more on who we are and what we do.
Featured Product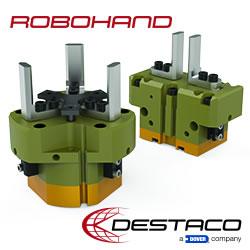 Automatically change end effector tooling quickly and easily with Destaco's Automatic Tool Changers. Designed with exceptional repeatability, high rigidity and load capacity, they are perfect for multiple tooling applications utilizing one robot. We offer different models and sizes to handle light-duty to heavy-duty applications. Our RQC/RTP Series provides a high level of flexibility with a configurable, modular design that accommodates up to four optional modular interfaces.