Located at the Boston Convention & Exhibition Center in Boston, Massachusetts, LiveWorx is a global technology conference and marketplace for solutions engineered for a smart, connected world and a gathering place for all who thrive on the business of industrial technologies.
January 22, 2018 - Framingham, MA - RoboBusiness is proud to present the Robotics & AI Summit at the 2018 LiveWorx event put on by PTC.

"We are delighted to partner with LiveWorx and PTC to support the advancement of technology development and adoption in this years event," says Jim Wagner, Managing Director of the Robotics Business Review. "2018 is an expansion of our 2017 participation at LiveWorx which was a big success and which received strong response from our community. Were committed to serving those developing and those implementing robotics and AI and want to continue to invest and support efforts like LiveWorx which cement Bostons position as an international Hub for robotics and AI advancements."
Located at the Boston Convention & Exhibition Center in Boston, Massachusetts, LiveWorx is a global technology conference and marketplace for solutions engineered for a smart, connected world and a gathering place for all who thrive on the business of industrial technologies. Delegates include analysts, business leaders, engineers, data scientists, designers, manufacturers, service technicians and system integrators. Industries represented include Automotive, Biopharmaceuticals & Chemicals, Financial Services, Healthcare, Manufacturing, Healthcare & Medical Device, Oil & Gas, Semiconductors, State Officials and Telecommunications.
RoboBusiness has been invited to partner with LiveWorx, a global gathering and community of over 7,000 innovators. As such, we are proud to support the ongoing growth and development of Boston as the global hub for the convergence of robotics and AI in manufacturing and more broadly, the entire supply chain.
"LiveWorx, the worlds fastest growing industrial tech conference, is inspired to team up with RoboBusiness to produce a state-of-the-art AI and robotics showcase! This partnership further cements our mission to brand Boston the global epicenter for robotics innovation," says Devin Cleary, Director, Corporate Events at PTC.
As a leading media organization, RoboBusiness is in a position to facilitate a series of case studies and panel discussions from leading industry robotic and AI gurus to discuss the challenges, opportunities and strategies organizations require to sustain a competitive edge during this technology revolution.
The Robotics & AI Summit will be focusing on the intersection of robotics, AI, and manufacturing. Preliminary topics include Smart Manufacturing & Robotics, Cobots and Manufacturing, Implementation and ROI Strategies, Perception & Manipulation - Piece Picking, AI and Predictive Maintenance, IoT Cybersecurity, Political, Legal, Ethical & Social Implications and much more.
About RoboBusiness
Produced by Robotics Business Review, RoboBusiness is the pioneering event of the global robotics industry and the most important gathering of the year for those seeking to learn more about and profit from robotics. For over 14 years, RoboBusiness has brought together thousands of executives, engineers, end users, investors, startups and robotics experts from around the world to learn from one another and build robotics strategies that can be immediately put to use to grow their businesses and stay ahead of the competition. RoboBusiness is supported by its parent company, EH Media. Visit www.robobusiness.com.
About EH Media
EH Media is an integrated media company and the leading provider of independent business and consumer content and information serving the consumer, commercial & custom electronics, security, information technology, house of worship, pro audio, robotics, and supply chain markets through multimedia publications, websites, newsletters, and expos. EH Media provides resources to millions of professionals and consumers worldwide. www.ehmedia.com.
About LiveWorx
LiveWorx is the leading digital innovation conference for the enterprise. Whether youre focused on creating elegant product designs, managing brilliant factories, delivering efficient service, or disrupting entire markets, your peers will be here to show you whats happening now and where they are headed in the future. Learn from early adopters about new ways to use existing tools and platforms and find new value born from the industrial Internet of Things.
About PTC (NASDAQ: PTC)
PTC has the most robust Internet of Things technology in the world. In 1986 we revolutionized digital 3D design, and in 1998 were first to market with Internet-based PLM. Now our leading IoT and AR platform and field-proven solutions bring together the physical and digital worlds to reinvent the way you create, operate, and service products. With PTC, global manufacturers and an ecosystem of partners and developers can capitalize on the promise of the IoT today and drive the future of innovation.
Featured Product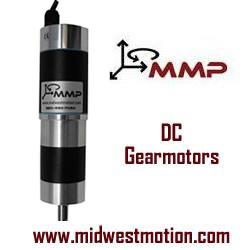 Midwest Motion Products Inc., based in Howard Lake, Minnesota, is pleased to announce the release of the new "GRA52" Right Angled Gearmotor System. This new 1:1 Right Angled Gearbox allows for significantly increased versatility, and design whose geometry allows for the unit to be mounted in tight spaces. We employ our Standard Brushed or Brushless DC Motors and Planetary Gearheads to complete the new R/A Design. Features/Benefits: Cost effective design - as low as $250*, Very Versatile - Output Ratios ranging from 3.7:1 to 2076:1, Fully Reversible Design, Readily available - Samples can be built from Stock Material, High Volume capacity.