AutoSens in Detroit, the influential vehicle perception event taking place on May 14-17, 2018, has confirmed a new venue in the heart of Detroits historic Midtown district, at the inspiring Michigan Science Center.
AutoSens in Detroit, the influential vehicle perception event taking place on May 14-17, 2018, has confirmed a new venue in the heart of Detroits historic Midtown district, at the inspiring Michigan Science Center.

World-class facilities, including the Chrysler IMAX Dome and the Toyota Engineering 4D Theatre, both of which will be used during the AutoSens event, are set against a thrilling backdrop of exhibits and interactive features, many of which reflect Detroits century of productivity and engineering influence over the world.
Charles Gibson, Director of Innovation and Outreach at the Michigan Science Center added "The Michigan Science Center is excited to host AutoSens prestigious conference. MiSci is dedicated to inspiring curious minds of all ages with science, technology, engineering, and math, and autonomous vehicles are an important part of the future of STEM. AutoSens will bring the worlds leading technical experts to our museum, and we are looking forward to supporting the conference with exciting education and outreach initiatives."
No Rain, No Train
The crackle of innovation will spark new ideas and fill the air with stimulating questions and exciting answers, as we invite the worlds leading minds in vehicle perception, ADAS and autonomous vehicles to join us again in Michigan.
As a mature events venue, and only a short distance from main transport hubs serving the city, Michigan Science Center, also known as MiSci, has steadily grown in popularity and impact, engaging schools and independent groups to explore science, technology, engineering and maths.
Rob Stead, Conference Director, was delighted to confirm the move, saying that the demand to expand the event was significant - "Our exciting new venue for Detroit is really needed for the larger agenda, which now has two conference tracks and two plenary sessions. And after last year was a little disrupted by the local features, shall we say, this year we can guarantee 'no rain, no train at Michigan Science Center!"
Situated in the heart of the city, and close to the Wayne State Universitys technical schools, combined with the stimulating environment of a museum dedicated to educating and inspiring people about the history and future of scientific research and technology development makes for a powerful combination.
Community is key
As part of the AutoSens program, which includes standards development under the IEEE Standards Association P2020 Working Group, the event will also welcome a group from the North West Advanced Programming Workshop.
NWAPW is an immersion program for high school students designed to take their understanding of computer science to the next level. The group will attend the conference, meeting industry professionals, as well as having the chance to explore the exhibition and present their own development projects.
Rob Stead, Conference Director, said "The AutoSens vision has always been about community. Im often told whats different about AutoSens is the openness and willingness to discuss topics among the engineers attending. Proprietary information remains so, of course, but there are so many issues, challenges and technical bottlenecks that are in the public domain, but still havent been solved by industry. These conversations and collaborations are what drives the success of AutoSens, and will be the signature ingredient at all our events for years to come."
About Michigan Science Center
The mission of the Michigan Science Center is to inspire curious minds of all ages to discover, explore and appreciate science, technology, engineering and math (STEM) in a creative, dynamic learning environment.
As a 501(c)(3) nonprofit organization, the Michigan Science Center relies on the support of donors, sponsors, community partners and members. That also means, as guests of AutoSens in Detroit, that delegates and exhibitors alike are helping to support this fantastic facility aimed at extending access to science, technology, engineering and maths to young people.
Booking for AutoSens is now open
With more than 400 delegates expected, reflecting the conferences rapidly growing international industry standing, prompt booking is advised.
Featured Product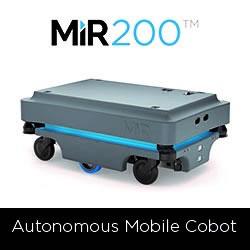 MiR200 is a safe, cost-effective mobile robot that automates your internal transportation. The robot optimizes workflows, freeing staff resources so you can increase productivity and reduce costs. MiR200 safely maneuvers around people and obstacles, through doorways and in and out of lifts. You can download CAD files of the building directly to the robot, or program it with the simple, web-based interface that requires no prior programming experience. With its fast implementation, the robots offers a fast ROI, with payback in as little as a year.