Booth #637 - Four lab equipment suppliers feature "Festo Inside" - Superconductor technology for frictionless sample handling, including contactless transfer through cleanrooms - Modular automation platforms demoed
ISLANDIA, N.Y., February 1, 2018 — Festo demonstrates at SLAS 2018, February 3-7 at the San Diego Convention Center, the companys latest solutions for bringing automated laboratory equipment to market faster and at less cost. Also at the Festo booth, instrument manufacturers with Festo control and kinematic systems inside showcase their latest screening, analysis, and testing innovations. (Festo SLAS Booth #637)

"Scientists partner with Festo for the development of their instruments mechatronics - that combination of mechanical, electrical, computer, systems, and control engineering that makes scientific vision a reality," said Steve Fitterer, Life Sciences Industry Segment Manager, Festo. "Festo is a sought-after partner of productivity for shortening instrument development time while lowering engineering overhead."
Festo demos
For the first time at SLAS, Festo features the Supraloop: a combination of three different sample transport systems, one of which utilizes superconducting technology for frictionless motion and contactless transfer of samples in cleanrooms. The Supraloop also features the Multi-Carrier-System MCS® for charting individual transport profiles for samples.
The Festo pre-analytics demo features automatic handling of sample tubes and microplates. The handlers integrated controller and kinematic systems enable a host of sequential handling and dispensing functions in a compact space. The desktop kit demo illustrates how Festo reduces costs through compact preassembled and tested modular motion solutions. And, the liquid dosing demo moves a dispenser through X, Y, and Z axes as droplets are sequentially aspirated into a group of microwell plates.
Leading suppliers feature Festo inside
At the Festo booth, PerkinElmer showcases its Janus G3 Automated Workstation. Festo and PerkinElmer collaborated on the instruments capper/decapper and automated vial transfer system. Singer Instruments showcases its PIXL precision microbial colony picking instrument, which features a Festo gantry motion system. The PhyNexus AutoPlasmid MMG utilizes Festo kinematics to deliver fully automated maxi, mega, and giga plasmid prep. And, the Biosero solution on display provides automated decapping and recapping efficiency for labs handling hundreds of samples per day. Each company will have representatives stationed at the Festo booth.
For more information on Festos laboratory automation solutions, call Festo at 800-993-3786 and visit the Laboratory Automation industry page on the Festo website www.festo.com/us. And be sure to stop by the Festo SLAS 2018 Booth #637.
###
About Festo
Festo is a leading manufacturer of pneumatic and electromechanical systems, components, and controls for process and industrial automation. For more than 40 years, Festo Corporation has continuously elevated the state of manufacturing with innovations and optimized motion control solutions that deliver higher performing, more profitable automated manufacturing and processing equipment.
Connect with Festo: Facebook, LinkedIn, Twitter and YouTube.
Featured Product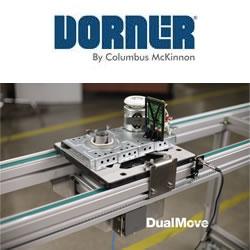 Dorner's 2200 Series Precision Move Pallet Systems are ideal for assembly automation. With features such as an innovative timing belt conveyor design and industry best pallet transfers, they get your product to the exact location, at the exact time and in the exact position it needs to be. They are now available with new options such as heavy load corner modules with 150 lb. capacity and 180 degree tight transfer corners for compact loops.