Nominations are now open for those using unmanned technology to save lives and improve health and the environment
ARLINGTON, Va., Feb. 2, 2018 /PRNewswire/ -- AUVSI XPONENTIAL, the event that brings more than 8,500 unmanned technology industry leaders and forward-thinking users from the defense and commercial sectors together to learn the latest on policy, business solutions and technology applications, is pleased to announce that industry leader DJI, the world's leader in civilian drones and aerial imaging technology, will sponsor the first-ever AUVSI XCELLENCE Humanitarian Awards. The Humanitarian Awards are designed to bring much-deserved recognition to those using unmanned systems technology to save lives, improve health, and relieve hardship and suffering.

DJI is the market-leading manufacturer of civilian drones and aerial imaging technology. DJI products are used in agriculture, conservation, search and rescue, energy infrastructure, and more to help drive safer, faster operations, and with greater efficiency than ever before.
"DJI embodies the spirit and intent of the Humanitarian Awards as it strives to create transforming and complex technology into easy-to-use devices that save time, money and, mostly importantly, lives," said Brian Wynne, president and CEO of AUVSI. "We are pleased to partner with such a dynamic and innovative company whose cutting-edge products are being used for many humanitarian missions."
This special award will be part of the inaugural AUVSI XCELLENCE Awards program, taking place during AUVSI XPONENTIAL, April 30 to May 3, 2018, at the Colorado Convention Center in Denver. This program will honor innovators in the unmanned systems industry, organizations and individuals, with a demonstrated commitment to promoting safe practices, and will highlight operations using unmanned systems to improve the human condition.
AUVSI seeks to recognize five organizations and/or individuals that have made a significant impact using unmanned systems to serve in humanitarian or philanthropic efforts. Nominations for the AUVSI Humanitarian Awards are now open (entry is free) with winners to be announced and recognized during the Day 3 keynote at AUVSI XPONENTIAL 2018 on May 3. The keynote topic will serve to acknowledge and celebrate the use of unmanned systems in public safety and humanitarian efforts. Award winners will be recognized with a $25,000 donation divided among the winners' organizations. Submission details and donation information can be found on the AUVSI XCELLENCE Award web page: https://xcellenceawards.secure-platform.com/a/. The deadline to apply is Wednesday, February 21, 2018.
"Drones are being used around the world today in incredible and meaningful ways, and we want to take this opportunity to honor and reward the organizations and individuals that have used this technology for humanitarian good - from supporting search-and-rescue efforts that save lives to enabling research endeavors that strengthen global sustainability and development goals," said Michael Perry, managing director, North America at DJI. "We are thrilled to partner with AUVSI on this initiative to showcase and celebrate remarkable stories and applications with the world in hopes that it will inspire further use of drone technology for humanitarian good."
In addition to the Humanitarian Award, the AUVSI XCELLENCE Awards will feature three other categories that recognize innovators striving to foster industry growth and maximize unmanned technology's potential. Categories include Technology Innovation, Training and Education, and Operation and Safety.
AUVSI XPONENTIAL is the largest trade show for the unmanned systems and robotics industry. The 2018 exhibit hall will showcase more than 725 cutting-edge companies from around the world and more than 200 educational sessions, providing information about the future of unmanned systems policy, technology, business solutions, and trending topics. For more information and to register, visit xponential.org.
About AUVSI
The Association for Unmanned Vehicle Systems International (AUVSI) - the world's largest non-profit organization dedicated to the advancement of unmanned systems and robotics - represents more than 7,500 members from more than 60 countries involved in the fields of government, industry and academia. AUVSI members work in the defense, civil and commercial markets. For more information, visit AUVSI.org.
About DJI
DJI, the world's leader in civilian drones and aerial imaging technology, was founded and is run by people with a passion for remote-controlled helicopters and experts in flight-control technology and camera stabilization. The company is dedicated to making aerial photography and filmmaking equipment and platforms more accessible, reliable and easier to use for creators and innovators around the world. DJI's global operations currently span across the Americas, Europe and Asia, and its revolutionary products and solutions have been chosen by customers in over 100 countries for applications in filmmaking, construction, inspection, emergency response, agriculture, conservation and many other industries.
Featured Product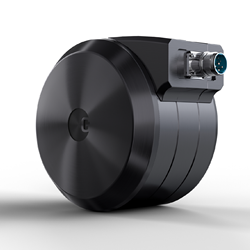 Welcome to the next generation of robotics and machinery. LiveDrive LDD is a unique direct drive motor that overcomes almost every limitation of servo geared solutions. A 50% reduction in length from typical geared motor is possible with Genesis direct drive motors. Choose to simplify machine designs and have a shorter footprint while having high performance, accuracy, and efficiency.