AI technology and cameras create the store of the future offering a pleasant shopping experience and no wait times for customers; efficiency and better inventory management for retailers of all sizes
Santa Clara, CA - February 27, 2018 - AiFi, a computer vision technology company, is introducing the first scalable checkout-free solution for stores from small mom-and-pop convenience shops to major mega retailers of tens of thousands of square feet. Using its innovative AI technology, sensor and camera networks and seamless system integration, AiFi is empowering all stores so they can move toward a checkout-free future and remain competitive while significantly improving the shopping experience for consumers. AiFi is already working with one of the worlds largest retailers to create its checkout-free solution on a massive scale.

Targeting the "trillion dollar opportunity" for all retail stores to upgrade and innovate and capturing offline data and behavioral trends, AiFi has created a comprehensive checkout-free solution. The technology incorporates AiFis proprietary computer vision algorithms with computing at the edge using low-power mobile devices to run multi-person behavior tracking and product recognition in real time.
AiFi has also developed unique ways of generating training data that can tackle many different shopping scenarios in practice, ensuring the solution becomes totally accurate. The affordable checkout-free solution does not require any major retrofitting on the part of the stores and once installed, retailers will gain improved inventory management data as well as valuable insights into consumer shopping habits and product preferences.
"Consumers and businesses alike want to be efficient and with a checkout-free store, consumers have an incredible shopping experience. Because our technology is massively scalable, tens of thousands of stores worldwide can become a 'grab and go type of retailer," said Steve Gu, CEO, AiFi. "The shopping experience now demonstrated and widely promoted by Amazon is just the tiniest taste of what the AiFi technology will do for retailers -- with shops that range from tiny to huge. Our pilot will roll out in one very large store, orders of magnitude bigger than the Amazon Go store, at the end of this year, with many more large stores to follow so thousands of consumers will experience the delight of no longer standing in long and tedious checkout lines."
AiFis checkout-free technology utilizes:
• AI algorithms which demonstrate superior performance for real-time people tracking, action recognition, and product recognition
• Sophisticated camera technology that can adapt to any type of store, ranging from a big brand store with thousands of square feet to the small/family-owned shop on the corner.
• Systems which continuously track hundreds or thousands of shoppers in a store and which can recognize or re-identify them throughout a complete shopping session
• A comprehensive understanding of shopping behaviors and gestures (even identifying abnormal gestures), and identifies people who are shopping together as a group
• Technology to recognize tens of thousands of SKU item numbers based on AI
"Here's what we know. More than 90% of last years retail sales came from physical stores yet Americans spent at least 37 billion hours waiting in line, which is considered the top frustration among shoppers," continued Gu. "Convenience is key if stores want to grow and drive business. Our solution helps stores run more efficiently and provides customers with a better shopping experience. Run in, grab what you need and continue on with your day. Easier for shoppers and more insights and real-time statistics for stores so they can better serve their customers and manage overall operations."
About AiFi
AiFi is a computer vision technology company specializing in smart retail and checkout-free solutions. The companys founding team includes outstanding research scientists from Apple and Google [x], PhDs from top universities, world champions in ACM, gold medalists in IOI, and advisors which include distinguished professors. The company has received $4 million in seed funding and is backed by top investors including Stanford StartX Fund, Plug & Play, Greylock, Amino Ventures, Oriza Ventures, CSC Ventures, AngelPlus Ventures, as well as private investors. For more information about AiFi and their AI technology, visit aifi.io.
Featured Product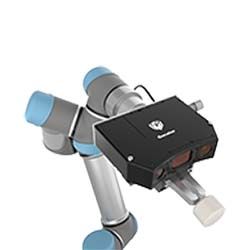 Easily integrate Gocator® 3D line profile and snapshot sensors with a variety of industrial robots to deliver high-performance 3D results in vision guidance, flexible inspection, material dispensing, and automated assembly with smart pick-and-place. Adding 3D vision to a robot turns repetitive, fixed motion into smart movement that can unlock greater value for your automation investment.