Advanced Software to Provide Autonomous and Artificial Intelligence Capabilities for the Warfighter
GAITHERSBURG, Md.--(BUSINESS WIRE)--Roboteam, Inc., the leading global provider of tactical ground robotic systems and controllers for defense, law enforcement and public safety missions, today announced their intuitive Artificial Intelligence Control Unit (AI-CU pronounced "IQ") software. The software will provide intuitive control and operation of unmanned systems and payloads to include unique features such as autonomous navigation, facial recognition and other artificial intelligence-enabled capabilities for operators of unmanned systems.

"The AI-CU will revolutionize the way soldiers are able to execute their mission objectives safely and successfully," said Shahar Abuhazira, CEO of Roboteam, Inc. "This software provides users with the next generation of unmanned software control by enhancing the level of situational awareness and intuitive operation. The AI-CU provides military quality speech and facial recognition technology that will forever change the way soldiers leverage robotics on the battlefield."
Capable of acting as a universal control unit, the AI-CU allows operators to control numerous platforms and payloads simultaneously, based on MOCU compliant, open source software. Through the use of AI, an operator can control semi-autonomous platforms with voice commands while receiving real-time facial recognition data in the field. AI-CU leverages universal sensors that can be integrated with GPS location, pre-defined payload configurations, and mission objectives for autonomous and intuitive operation.
The use of machine learning will allow platforms to recognize individual operators and learn how each user utilizes system features and performance. During operation, control and usability features automatically adjust, allowing AI-CU to provide a tailored interaction with the platform to better meet an operators needs. AI-CU is easily modified to meet any mission objective, whether it is controlling UGVs or UAVs, and leverages an obstacle alert system for superior situational awareness.
In addition to operability, the software provides a supreme level of security for users in the battlefield. Sensitive material stored on the AI-CU or robotic platform can be remotely deleted in situations where a platform may have been compromised.
To learn more about the AI-CU, please visit: http://www.robo-team.com/products/ai-cu/.
About Roboteam
Roboteam designs, develops and manufactures cutting edge, user-oriented, multi-purpose, unmanned platforms and controllers for Defense, Law Enforcement and Public Safety missions. Today, Roboteam is a global operation with offices in the US and Israel serving a wide spectrum of customers with several lines of products. We created a line of lightweight, fast deployable unmanned ground systems that deliver technological and functional breakthroughs for tactical purposes with unmatched reliability. Among our customers, one can find top units within the US Military, Special Forces, EOD units and SWAT teams as well as other elite units around the globe. Roboteams flexible architecture permits a fast development of products, supported applications and core technologies. We pride ourselves on being engineers, inventors, and close to our customers and end-users.
Featured Product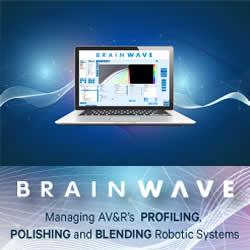 The AV&R team has developed a software for our robotic machines with the mission to make robotics accessible to everyone. This software is the glue which orchestrates the interaction between the system components in a single user-friendly interface. Comparing our machines to ourselves as humans, this software would be the control center of all faculties of the body, hence its name: BrainWave.