Global leader in robotic integration for Aerospace & Defense, Genesis Systems Group will showcase new robotic capabilities for NDI, laser processing, IIoT connectivity for press tending & cell control, mobile robotic platforms, and large-scale manipulators at AeroDef 2018, Booth 814.
Genesis Systems Group, an RIA Certified Robot Integrator and globally recognized specialist in robotic systems integration for commercial aerospace, space launch, and defense applications, will be showcasing at AeroDef Manufacturing 2018, an important industry event that brings together high-concept, integrated solutions and real-world applications.

Demonstrating advanced robotic solutions for non-destructive inspection (NDI), laser processing, mobile robotic platforms, IIoT connectivity for press tending and cell control, and large scale manipulators, the Genesis exhibit features a 3D immersive environment, virtual reality setups, and hands-on equipment. One of the exhibit highlights is a Genesis KUKA KMP AGV mobile robotic platform, which offers safe operation as well as ease of use and maneuverability.
"The Genesis Aerospace & Aircraft Division will be focusing on large scale robotic applications featuring KUKA robots and mobility products," said Pat Pollack, CEO for Genesis. "Leveraging more than 35 years of industry experience, our team of engineers has developed robotic applications and processes that overcome manufacturing and inspection challenges to deliver enhanced efficiencies and productivity while fulfilling strict industry requirements."
Genesis Systems Group welcomes guests at Booth 814 at AeroDef Manufacturing 2018, Long Beach Convention Center, Long Beach, CA, March 27-28 (Conference March 26-29), 2018.
To contact Genesis Systems Group, visit http://www.genesis-systems.com or call (563) 445-5600.
About Genesis Systems Group
Established in 1983, Genesis Systems Group is a globally recognized leader in robotic systems integration. An RIA Certified Robot Integrator, as well as AS9100D and ISO 9001:2008 Certified, Genesis specializes in factory automation with robots for integrated robotic arc, spot and laser welding/cutting, non-destructive inspection, including robotic ultrasonic inspection of carbon fiber composites, adhesive application, material removal and material handling. With the governing objective to help clients win the productivity race, in-house capabilities and expertise are centered on the design, manufacture and implementation of integrated robot workcells. In addition, Genesis specializes in process related services such as computer aided engineering, (CAE) process simulation, lean manufacturing and other variation reduction techniques. Genesis has designed, engineered, manufactured and supported integrated robotic solutions for diverse industries including automotive, aerospace, agricultural, construction & forestry, primary metals, furniture, defense, energy and other general industries. Visit https://www.genesis-systems.com.
Featured Product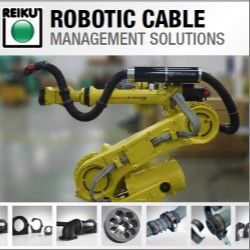 REIKU's Cable Saver™ Solution eliminates downtime, loss of revenue, expensive cable and hose replacement costs, maintenance labor costs. It's available in three sizes 36, 52 and 70 mm. All of the robots cables and hoses are protected when routed through the Cable Saver™ corrugated tubing.The Cable Saver™ uses a spring retraction system housed inside the Energy Tube™ to keep this service loop out of harms way in safe location at the rear of the Robot when not required. The Cable Saver™ is a COMPLETE solution for any make or model of robot. It installs quickly-on either side of the robot and has been tested to resist over 15 million repetitive cycles. REIKU is committed to providing the most modular, effective options for ensuring your robotic components operate without downtime due to cable management. www.CableSaver.com