TGW Systems Inc. will showcase its new Rovolution robotic picker, a fully automated, piece-picking stationary robot arm in Booth B1227 at MODEX, April 9-12, 2018 in Atlanta
TGW Systems Inc. has developed a revolutionary system for fully automatic split case picking using a robot. Rovolution will be showcased in the US at Modex in Atlanta. TGW's robot is intelligent, self-learning and extremely flexible, as it is based on findings from cognitive robotics and machine learning. It constitutes another high-performance element of the FlashPick® solution and seamlessly fits into TGW's system environment.

Rovolution is an Upgrade to FlashPick®
Rovolution is available as an add-on module to FlashPick®, TGWs Smart Piece picking solution. This modular concept for Rovolution allows for upgrades at any stage in the customers lifecycle. With PickCenter ONE TS a customer can chose to upgrade as many or as few workstations to Rovolution as required. With Rovolution TGW brings a new era of robotics to the material handling industry that incorporate cognitive and machine learning techniques that allow enhanced performance and decreased total cost of ownership.
"We recognize that finding and keeping qualified, reliable labor is an ongoing—and increasing—concern for most operations within the U.S.," says Andy Lockhart, TGW Systems Vice President Sales, Integrated Systems. Rovolution has been developed specifically to help companies, particularly those in the e-commerce and omni-channel retail order fulfillment space, overcome those labor issues."
The Rovolution is able to pick a variety of products and with the machine learning techniques the robot adapts intuitively to changes in business models and product mix. Combined with PickCenter ONE TS Rovolution picks products accurately and quickly into totes or cartons.
Items are stored within the modular, fast and flexible FlashPick® system, which automates split case picking for shorter lead times. It can be configured to interleave orders from different distribution channels while supporting the variable and frequently changing inventory assortments in the food, apparel and general merchandise industries. Built on the intelligent TGW Software Suite that incorporates sophisticated algorithms to continuously prioritize orders based on configurable profiles, the FlashPick® system allows for later order cut off times and/or earlier deliveries.
Also showcased at MODEX are TGWs 360-degree services and solutions, designed to support users of the companys automation across a broad range of industries, including e-commerce, omni-channel, general merchandise, grocery, apparel, manufacturing, distribution and more. Worldwide, the company provides planning, design, installation and commissioning of mechanical equipment, controls, robotics and software, then backs them up with comprehensive lifetime services and support.
"Companies that utilize TGW as a one-stop solution benefit from low operating costs, ultimately resulting in savings of up to 50% of the total cost of ownership," Lockhart adds.
In addition to the technologies on display in the Booth, TGW will present two separate MODEX On-floor Seminars:
"The Omni-Channel Evolution: How Strategic Investment in Fulfillment Automation Ensures Survival of the Fittest," presented by Raffaele Destro, Industry Manager, on Monday, April 9 from noon-12:45 p.m. in Theater I.
"How a major European Grocer Implemented Freezer Warehouse Automation to Gain Operational and Financial Benefits," presented by Andy Lockhart, Vice President Sales, Integrated Systems, on Tuesday, April 10 from 3:00-3:45 p.m. in Theater A.
For more information, visit TGW in MODEX 2018 Booth B1227, or contact Lynn Metzger, Business Development Manager of TGW Systems Inc. at lynn.metzger(at)tgw-group(dot)com or 231.798.4547.
About TGW Systems Inc.
TGW Logistics Group (tgw-group.com) is a global leading systems provider of highly dynamic, automated and turnkey logistics solutions. Since 1969 the company has been implementing different logistics solutions, from small material handling applications to complex logistics centers. With approximately 2,800 employees worldwide, the Group implements logistics solutions for leading companies in various industries. In the business year 2016/17, the TGW Logistics Group generated sales revenues of $742 million U.S.
Featured Product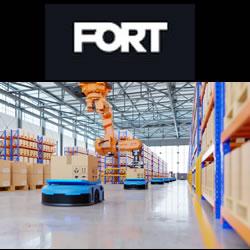 Machine safety and security are two critical components of any industrial operation. Our latest video explores this question and provides insights into how security measures can enhance machine safety. Nivedita Ojha, VP of Product at FORT, breaks down the key considerations when it comes to securing your machines and keeping your workers safe, explaining why there is no safety without security.