• The latest innovation for high-speed auto-fulfilment, Butler PickPal, unlocks the next level of efficiency and cost savings in the order picking process • Collaborative robot combines AI and Machine Vision to revolutionise picking high-mix SKU inventory in e-commerce fulfilment centers, delivering twice the throughput • Using sophisticated Machine Learning, it decides and picks a large variety of packaging types up to 4kg (8.8 lbs)
Hannover, March 13, 2018: Robotics and supply chain automation company GreyOrange announced its beta launch of the new-gen Butler PickPal, an autonomous picking solution, at LogiMat 2018 in Stuttgart, Germany. The Butler PickPal is powered by Artificial Intelligence (AI) and Machine Vision to unlock the next level of efficiency in the order picking process. It works seamlessly with the goods-to-person GreyOrange Butler™ robotics system which enables warehouses to manage high-speed operations by automating order picking and fulfilment.

The Butler PickPal addresses the challenges arising from the global boom in e-commerce as orders need to be fulfilled faster and accurately with more cost-efficiency as competition intensifies. Vertical and horizontal e-commerce industries that operate with a huge number of high-mix SKU inventory, require the shortest order-to-dispatch time and accurate piece-picking.
Akash Gupta, Chief Technology Officer, GreyOrange said, "Working closely with our customers, we see that the order picking process for e-commerce products take up a high percentage of the resources of warehouse staff. As companies face increasing challenges in hiring employees, the adoption of automation is the answer to increase productivity, reduce costs and improve the turnaround time. The Collaborative Robots market is poised for exceptional growth over the next years, growing to 34% of the global robotics spending by 2025. The material handling segment is expected to experience the largest growth in collaborative robot instalments as more companies deploy them into their processes. We are excited to participate in this segment to help unlock the next level of efficiency in last-mile delivery for e-commerce operations."
Designed to revolutionise the auto-fulfilment process, the Butler PickPal reduces remarkably the time taken during order fulfilment, by identifying and picking products from shelves quickly and accurately. The PickPal is a collaborative robot, which works alongside a warehouse operator to pick, consolidate and fulfill orders, and together can achieve 500-600 picks per hour; easily doubling the throughput from the same picking station. More details are available at http://www.greyorange.com/pdf/Butler_Pickpal.pdf
The innovative combination of a scanning system and a 6-axis robotic arm delivers a unique solution that cuts down the time required for processing and picking orders. The Butler PickPal uses sophisticated Machine Vision algorithms to identify the SKU to be picked from the shelves. Using AI-based order processing, it can manage up to 48 orders at the same time.
The Butler PickPal can handle different packaging types such as boxes, pouches, bottles and vacuum-sealed packages. It can grasp items up to 4kg (8.8 pounds). Using Machine Learning it devises the strategy to pick each item from the densely packed SKU inventory using a versatile gripper. It can identify and handle over 100,000 SKUs of the most popular products commonly found in its e-commerce operations.
The new Butler PickPal will be deployed in selected sites by mid-year. It is expected to set new standards in operational efficiencies for picking velocity and throughput. The Butler robotics system from GreyOrange has been deployed internationally in distribution centers in Japan, Hong Kong, India, Europe and the Americas, reducing cost per shipment and enhancing productivity at its warehouse operations.
Meet with GreyOrange on 13-15 March 2018 at Hall 7, Stand F49, LogiMAT 2018, Stuttgart, Germany; register here. Contact info@greyorange.com
About GreyOrange
GreyOrange is a multinational technology company that designs, manufactures and deploys advanced robotics systems for end-to-end supply chain automation in warehouses, distribution and fulfilment centres. With deep domain expertise, world class hardware and software engineering and the passion to solve complex business problems, the company is advancing the way logistics and supply chain processes across the world are being optimized. Founded in 2011, GreyOrange is headquartered in Singapore with offices in India, Hong Kong, Japan, Germany and UAE, and a state-of-the-art Research and Development centre in Gurgaon, India. Contact info@greyorange.com
To know more, visit www.greyorange.com
Featured Product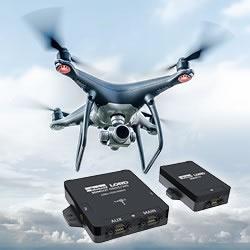 The C-series high performing inertial sensor package provides an OEM form-factor that is optimized for size and weight in Off Highway, Unmanned Ground Vehicles/Mobile Robots and Unmanned Aerial Systems. It's compact and low-profile anodized aluminum housing can be connected directly to a printed circuit board using a UART header or a Samtec FFSD ribbon cable and 2-56 fasteners.