The global leader in society-driven technology solutions is set to showcase several key technologies in its fully-integrated, comprehensive automation portfolio at the SAE World Congress Experience in April.
HOFFMAN ESTATES, IL., April 3, 2018 - Omron Automation, a global leader in technology solutions with a social focus, will demo its wide-ranging innovations in robotics, sensing, control, safety, vision and more at the SAE World Congress Experience (WCX) this coming April. The automotive-focused event is the ideal place for Omron to showcase the engineering breakthroughs that have made it a globally trusted partner in mobility and factory automation.

Thanks to its highly flexible robotics, data connectivity and vision portfolio, Omron is the industry leader when it comes to building the automotive factory of the future. One of the companys key demos at WCX 2018 - which will take place at the Cobo Center in Detroit, Michigan - will feature the FH vision system, a powerful solution for high-speed inspection across a variety of automotive and electronic applications. Even more intriguing, the LD Mobile Robot exhibit will show how self-navigating autonomous intelligent vehicle (AIV) can adapt to a wide variety of applications and payloads while saving manufacturers time and money and enabling truly flexibly manufacturing and workflows.
To address traceability, serialization, and regulatory challenges in the automotive industry, Omron will present its latest laser marking technology for putting fine characters on 3 dimensional surfaces. Laser marking is now one of the preferred methods for adding direct part marks (DPMs) to work-in-progress parts due to its high resolution and exceptional durability. WCX visitors can scan their badges at the Omron booth (#10021) to watch laser marking in action and get a personalized ping pong ball to take home.
Learning is a cornerstone of WCX, and Omron will be sharing its expertise in future-oriented technology at the events Technical Sessions. Starting at 8:30am, Safety Product Engineer Tina Hull will present a case study on how safety design will adapt to new technologies and generational changes. Mike Chen, the director of Omrons Automation Center, will lead a 10:00am panel discussion titled "Manufacturing for the Next." The session code is IDM304 and the location will be Room 312A.
This opportunity is a must for anyone seeking to learn more about the future of vehicle safety and automotive manufacturing, as well as those who are eager to keep up with the creators of FORPHEUS, the worlds first artificial intelligence-equipped robot tutor that helps people improve their ping pong skills. WCX attendees should be sure to stop by Booth #10021 to see some of todays most exciting vision and robotics technologies in action.
About Omron Automation
Omron Automation is an industrial automation partner that creates, sells and services fully integrated automation solutions that include robotics, sensing, motion, logic, safety, and more. Established in 1933 and currently headed by President Yoshihito Yamada, Omrons 36,000 employees help businesses solve problems with creativity in more than 110 countries. Learn more at omron247.com.
Featured Product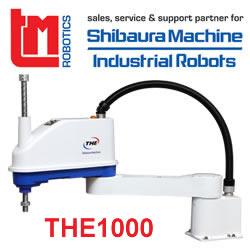 Designed for assembly and inspection applications in the electronics equipment and automobile components industries, the THE600 SCARA is a powerful automation tool. Advancing from the specifications of the existing THE400 SCARA, the THE600 has been developed to meet growing demand for fast-cycle automation. The THE600 model includes improvements in synchronised control and tracking precision. The THE600 is compact in design and offers improved high speed, with 60 per cent higher payload capacity than competing SCARA models in the same price range, making it the price-to-performance leader. Affordable price, impressive performance.