The Vinden LR series of OEM cameras will premiere at ISC West, April 11 - 13, 2018, at Sands Expo & Convention Center, Las Vegas, Nevada, in booth # 9137.
HOOD RIVER, Ore. - April 3, 2018 - Sierra-Olympic Technologies, supplier of infrared (IR) and thermal imaging components, cameras, and systems solutions for innovative imaging applications, will demonstrate the new Vinden LR series of long-range thermal cameras with powerful continuous-zoom optics. The OEM camera modules have several zoom lens options that provide a narrow horizontal field-of-view (HFOV) as small as 1.5° without compromising image quality, optical speed, or sensitivity. It also features a highly-tuned, one-touch autofocus that is easy-to-use, with dependable operation throughout the zoom range.

The Vinden LR camera series features pixel resolution of 640 x 480 x 12-microns, high sensitivity up to 60 Hz frame rate (max.), and three, athermalized and parfocal continuous-zoom lens options between 17.5° - 1.5° HFOV. On-board functions include advanced image processing, video recording and storage (32GB), H.264 IP encoding, and Ethernet control connectivity. The OEM-friendly camera series is an ideal choice for integrators who design thermal and multi-sensor imaging systems for security, surveillance, military/defense imaging, and border, port, and base security applications.
Sierra-Olympics new longwave infrared (LWIR) long-range zoom cameras are non-ITAR controlled, and are available with a 25-150 mm, 25-225 mm, or 40-300 mm continuous zoom lens. For more information, please go to: https://www.sierraolympic.com/products/details/vinden-lr, or call +1 855-222-1801.
If attending ISC West 2018 at the Sands Expo & Convention Center, Las Vegas, Nevada, please go by Sierra-Olympics booth #9137 for a live demonstration of the advanced, long-range, thermal zoom Vinden LR camera series. To access our blog or sign up for our newsletter, please visit: http://blog.sierraolympic.com/blog.
Sierra-Olympic Technologies, Inc. (www.sierraolympic.com Hood River, Oregon), experts in thermal imaging technology, provides cameras, components, and systems solutions for infrared camera users and integrators. Recently named the U. S. Master Distributor for DRS uncooled commercial camera cores, Sierra-Olympic partners with industry-leading manufacturers to offer complete solutions for SWIR, MWIR, and LWIR imaging applications. The company offers numerous products for online purchase and immediate shipment. Products include LWIR OEM imaging cores, cooled cameras for science and industry, cooled cameras for OEM customers, SWIR cameras, and thermography systems for temperature-measurement applications.
Featured Product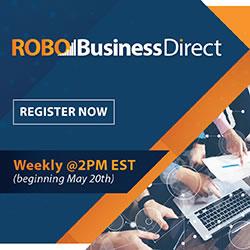 RoboBusiness Direct is built to foster robotics innovation in all its forms, expand robotics business opportunities, and build a community of like-minded problem solvers with the goal of driving the growth of robotics businesses. More than a webinar or virtual event, RoboBusiness Direct is an ongoing, integrated series of presentations and media coverage delivered by brightest minds from the leading robotics and automation companies from around the world - Nuro, FedEx, Lockheed Martin, Samsung, Siemens and more.