CartConnect and RollerTop AMRs Further Expand On-Demand Automation Capabilities for Warehouse Material Handling; Preview at MODEX 2018
SAN JOSE, Calif. - April 5, 2018 - Fetch Robotics, the pioneer in on-demand automation, today announced the expansion of its VirtualConveyor family of Autonomous Mobile Robots (AMRs) with the addition of CartConnect and RollerTop robots for the most flexible and broad range of workflows for material handling and transport. Through the FetchCore Cloud Robotics Platform, mixed fleets of VirtualConveyor robots uniquely complement any warehouse optimization strategy for mixed inventory and workflow environments associated with the largest 3PLs, retailers, and manufacturers in the world. CartConnect, RollerTop and the complete line of VirtualConveyor solutions will be shown for the first time at MODEX 2018 at booth #B4835.

VirtualConveyor CartConnect solutions allow the new AMRs to pick up, transport and drop off delivery warehouse carts to any warehouse or manufacturing location. CartConnect robots can then immediately move on to their next cart delivery task. This maximizes productivity gains out of Fetch Robotics AMR systems in workflows where transported material cannot be immediately loaded or unloaded.
VirtualConveyor RollerTop robots have seamlessly integrated active conveyor modules that, in combination with FetchCores new precision alignment feature, allow RollerTop robots to dependably hand off or receive material from fixed conveyance. With the simple integration of FetchLink controllers with facility conveyors, customers can very quickly deploy AMR to conveyor workflows that require no human interaction.
Both CartConnect and RollerTop solutions can be deployed in hours without any changes to existing facility or IT infrastructure.
"We are committed to helping our customers increase warehouse efficiency with the fastest time to automation," said Melonee Wise, CEO, Fetch Robotics. "RollerTop and CartConnect robots add flexibility and maximize existing conveyance across factory and warehouse workflows providing our customers with a breadth of options to meet their goals."
Both CartConnect and RollerTop are managed through FetchCore, the companys cloud robotics platform. FetchCore is unified cloud-based software for deploying, operating, monitoring, and optimizing Fetch Robotics AMRs across warehouse and manufacturing environments. With a simple click and drag interface, FetchCore allows warehouse managers to create and schedule workflows in minutes, and to quickly create or modify mobile robot tasks and schedules to compliment any warehouse optimization strategy.
"With Fetch, warehouses and logistic facilities are able to maximize their workflow efficiency without any changes to the physical environment," according to John Santagate, Research Director at IDC. "The new robotic modules from Fetch are a perfect complement to an automation strategy for increasing warehouse efficiency and material throughput, without the disruption typically associated with automation modifications. They can easily integrate with existing conveyance systems for rapid deployment. These new autonomous products are a great example of modular autonomous mobility, something that IDC believes will help to deliver enhanced value and drive the idea of 'flexible automation."
About Fetch Robotics
Fetch Robotics is a pioneer in on-demand automation for 3PLs, retailers and manufacturers through cloud-based AMR (Autonomous Mobile Robot) solutions for the warehousing and intralogistic markets. Headquartered in San Jose, California, Fetch Robotics provides the industrys most extensive and versatile AMR solution and delivers the fastest time to automation for a range of applications, including material handling and data collection. For more information, please visit http://www.fetchrobotics.com or follow the company on Twitter @FetchRobotics.
Featured Product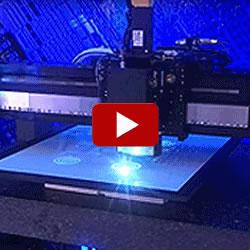 A traditional gantry system employs X-Y or X-Y-Z range of motion. Mounted on a base plate, usually granite, 2 parallel rails constitute the synchronized Y axis motion while the cross axis (bridge axis) provides the X motion. A vertical axis can be added on the bridge for the Z motion. A Split Bridge system can be less complex than a traditional gantry system because synchronization of the two parallel linear motors is not required. Both systems are used in industrial production, testing, and additive manufacturing.