At MODEX 2018 see how LiDAR brings savings and safety to the job site
SAN JOSE, Calif.--(BUSINESS WIRE)--According to the Occupational Safety and Health Administration (OSHA), each year approximately 34,900 forklift accidents occur with about 85 of those ending in death. That is 85 deaths too many, which is why Velodyne LiDAR, the world leader in LiDAR sensors, is teaming up with MechaSpin and CVEDIA at MODEX 2018 to showcase a safe alternative for companies and their employees: ForkAlert™.

Equipped with the Velodyne PUCK™ (VLP-16) 3D LiDAR sensor, MechaSpins ForkAlert helps forklifts and other industrial vehicles identify and classify surrounding objects in real-time. The sophisticated Advanced Driver Awareness System (ADAS) quickly alerts the driver through a series of audible and visual alerts, providing them with 360-degree protection around the vehicle.
"Working with MechaSpin and CVEDIA has been very exciting, as we are passionate about helping companies develop more effective automated systems - in this case, for both operators and pedestrians in warehouses," said Frank Bertini, UAV and Robotics Business Manager at Velodyne LiDAR. "Both companies are important pieces of Velodynes growing ecosystem of third party integrators and software developers and we are excited about the possibilities we can bring in coming years."
Velodynes VLP-16, colloquially termed the "Puck," delivers 300,000 geospatial data points per second. These points are used by the ForkAlert system to map the environment and build a 3D point cloud in real-time. People, vehicles, and stationary objects are identified clearly within the mapped point cloud, providing full 360-degree awareness to the forklift operator. Velodynes Puck acts as an ideal robotic eye for ForkAlert, aiding the driver when vision may be limited.
This innovative hardware and software solution was developed by MechaSpin, a full-service robotics house specializing in Mechatronics and industrial automation. To speed up and improve development of ForkAlert, MechaSpin partnered with CVEDIA, a simulation, modeling and big data management platform for machine learning applications, to develop a robust simulation environment. The technology from CVEDIA allows MechaSpin to quickly prototype, design, develop and test ForkAlert in a large variety of environments, ensuring the ForkAlert can navigate any environment and prevent collisions.
"Accidents and injuries from forklifts are costing companies significant time and money. MechaSpin specializes in applying machine-learning and object classification algorithms to LiDAR data," said Danny Kent, Ph.D., President and Founder of MechaSpin. "Using Velodyne's VLP-16 combined with MechaSpin's software, ForkAlert provides an active safety solution to drivers. This increases warehouse safety, improves driver morale, and reduces lost time and money. MechaSpin is thrilled about working with Velodyne and CVEDIA on this exciting product."
"Simulations and modeling enable faster development and deployment of autonomous systems to improve worker safety," noted Arjan Wijnveen, Chief Executive Officer of CVEDIA. "CVEDIAs ChiSynCity constructs 3D indoor/outdoor environments and provides ground truth sensor data for machine learning algorithms development and validation. CVEDIA is excited to help build a much-needed product in the industrial automation space with Velodyne and MechaSpin."
See a live demonstration of this cost- and life-saving technology at MODEX 2018 in Atlanta, Georgia from April 9 - 12, located in Velodynes in Booth #B2267.
About Velodyne LiDAR
Founded in 1983 and headquartered in Silicon Valley, Velodyne is a technology company known worldwide for its real-time 3D LiDAR computing and software platforms. The company evolved after founder David Hall invented the HDL-64 Solid-State Hybrid LiDAR sensor in 2005. Since then, Velodyne LiDAR Inc. emerged as the unmatched market leader of real-time 3D vision systems used in a variety of commercial applications including autonomous vehicles, vehicle safety systems, mobile mapping, aerial mapping, and security. Its products range from the high-performance, surround view Ultra-Puck™ VLP-32, classic HDL-32/64 and cost-effective VLP-16, the new VLS-128, to the upcoming, hidden Velarray™. Velodynes rich suite of perception software and algorithms are the key enablers of its perception systems. Velodyne supports customers from offices in San Jose, Detroit, Frankfurt, and Beijing. For more information, visit http://www.velodynelidar.com
About MechaSpin
Founded in 2010, MechaSpin is an experienced Systems Integrator and Solution Provider dedicated to using LiDAR technology to solve todays complex safety and automation problems. Starting their careers in the 2004 and 2005 DARPA Grand Challenge, MechaSpins team is focused on bringing the sensors, algorithms and technologies from the self-driving car industry into the material handling, human safety and supply chain markets. MechaSpin specializes in the application of machine learning algorithms to LiDAR data to classify, identify and track objects of interest. For more information, visit http://www.mechaspin.com
About CVEDIA
CVEDIA provides simulations and big data management solutions for artificial intelligence applications. Its state-of-the-art simulation platform SynCity was designed specifically for machine learning. Leveraging years of experience in cutting edge software development, gaming development and computer vision R&D, CVEDIA specializes in using 3D modeling to generate synthetic, robust datasets and sensor simulations for a variety of autonomous systems. Please visit us at www.cvedia.com
Featured Product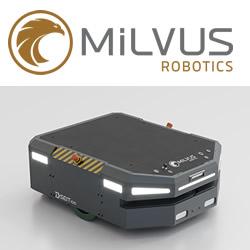 Enhance your material transport capabilities - even in the busiest warehouse or production environments - with SEIT robots. Made by Milvus Robotics, these reliable and safe AMRs efficiently move materials with no human intervention required. They work seamlessly alongside people, forklifts, and other equipment. Requiring no infrastructure, SEIT robots are suitable for a range of manufacturing environments, distribution centers and more.