GNB® LiFTFORCE LPX™ Does the Work of Three Standard Batteries in One
ATLANTA, April 10, 2018 /PRNewswire/ -- Exide Technologies (www.exide.com) announced today at MODEX 2018 the launch of its GNB LiFTFORCE LPX lithium-ion battery in the U.S. The LiFTFORCE LPX can charge in just 15 minutes, up to eight times faster than a traditional lead-acid battery, and provides increased cycle life and lower maintenance requirements for Class I, II, and III forklifts as well as Automated Guided Vehicles (AGVs) and other demanding applications. It's an ideal solution for large distribution centers and companies that run heavy-duty or multiple shifts looking to lower their operational costs.

The LiFTFORCE LPX was first introduced in Europe in 2013 under the brand name GNB Sonnenschein® Lithium, where it has demonstrated high performance for around-the-clock powering of forklifts. It has proven especially valuable in three-shift operations where battery replacement would normally be required.
"Lithium-ion battery applications are on the rise globally due to the exceptional benefits in capacity, size, maintenance and performance," said Ted Becker, Exide Technologies President, Americas. "The LiFTFORCE LPX is a great addition to our extensive battery portfolio, which includes both lead-acid and lithium-ion options to meet the evolving power needs of the material handling industry."
Top overall benefits of the LiFTFORCE LPX are streamlined operations, reduced downtime and lower total cost of ownership than traditional lead-acid batteries. Additional benefits include the following:
Greater energy efficiency: same energy as a lead-acid battery in a smaller and lighter package
24/7 forklift operation using the same battery with only short bursts of recharging needed while workers are on breaks
Freed-up floor space for storage and operations due to the ability to use wall chargers; this also eliminates the need to shuffle cumbersome batteries in and out of the forklift
Lower maintenance requirements than lead-acid batteries due to eliminated need for watering
Specialized electronic BMS (Battery Management System) monitors the status and health of each battery
The LiFTFORCE LPX battery will be commercially available beginning in July.
Exide's GNB Industrial Power division is at the forefront of lithium-ion battery advances, working closely with several material handling OEMs and end users to assess the value of the solution. In addition to the batteries themselves, Exide provides full system solutions including service and maintenance support and lifecycle management.
Stop by the Exide Booth #2547 to see the new LiFTFORCE LPX as well as other technologies in action through interactive experiences, live demonstrations and one-on-one discussions with our experts.
About Exide Technologies
Exide Technologies (www.exide.com) is a global provider of stored electrical-energy solutions for the transportation and industrial markets. Exide's 129 years of technology innovation combined with operations in more than 80 countries enables the company to deliver compelling solutions for the world's current and future power needs. Exide produces and recycles a broad range of products, serving the Transportation, Industrial Power and Motive Power market segments with battery and energy storage systems and specialty applications for a broad range of industries including: agricultural, automotive, electric, light and heavy-duty truck, marine, materials handling, military, mining, powersport, railroad, security, telecommunications, utility and uninterruptible power supply (UPS), among others. Exide is Powering the World Forward - history and scale combined with a start-up mentality make Exide the right choice for customers who want more than simply a battery supplier.
Featured Product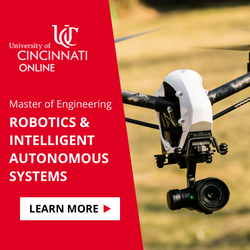 The online MEng in Robotics & Intelligent Autonomous Systems program from the University of Cincinnati provides specialized training in several disciplines, including computer science, electrical engineering, mechanical engineering, systems engineering, and project management. This industry-focused degree combines technical mastery with professional skills. Students are exposed to a broad set of topics to innovate and envision new systems while developing skills needed to build the future's reliable, safe, secure, and trusted systems.