Find out what to expect from the innovative start-ups below as they demo their products amongst 300+ exhibitors across AI, IoT and Blockchain in front of a large tech savvy audience of over 14,000 attendees.
LONDON--(BUSINESS WIRE)--The AI Expo Global is set to arrive in Londons Olympia in 1 week (18-19th April) and with it you can expect to find the most cutting-edge start-ups and innovators across the AI & IoT ecosystem located within the innovation incubator zone here. (Booth 327). The start-up innovation incubator zone has partnered with Arrow, Indiegogo and IBM. Indiegogo is the platform of choice for early stage entrepreneurs, whereas the Arrow Certification Program is a partnership between Arrow Electronics and Indiegogo that gives entrepreneurs the necessary tools and services to bring their product ideas to life. As the official Cloud Technology partner of the Arrow Certification Program, IBM accelerates entrepreneurs success with powerful developer, IOT, analytics and security services.

Find out what to expect from the innovative start-ups below as they demo their products amongst 300+ exhibitors across AI, IoT and Blockchain in front of a large tech savvy audience of over 14,000 attendees. Attendees can register for a free expo pass to gain access to the co-located exhibition and the free AI, IoT & Blockchain conference tracks or for those that are interested in networking and attending the various paid AI, IoT and Blockchain conference tracks (a total of 12), then register for a Gold or Ultimate pass.
Across the AI Ecosystem attendees can expect to hear from:
1. StreetDrone - an ambitious UK self-driving start-up with a rich automotive, motorsports and entrepreneurial DNA. The team will be demoing the 'StreetDrone ONE an all-electric car providing the self-driving hardware to tackle a wide variety of testing and development challenges. It is also customisable, allowing users and buyers to focus on their requirements without the complications, time and money associated with building their own test rig. Find them at booth 457.
2. Creoqode - a London-based technology and design company, specialising in innovative products that enhance users hardware and software skills in an enjoyable, creative and educational way. They will be demoing two of their finest products at the show including the 'DIY Artificial Intelligence Robot and the 'DIY Open-source Game Console. Find them at booth 451.
3. NquiringMinds - a British company specialising in smart cities, data analytics and Internet of Things. Their solutions focus around digital transformation, using their expertise in the IoT and data analytics spaces to unlock efficiency and cost savings in existing and new processes. They have two core technology products which they will be demoing at the show: The Trusted Data Exchange (TDX), a next generation data platform; and InterliNQ, a secure IoT hub with edge processing capabilities.
4. Trik - is a drone that uses advanced photogrammetry for automatic 3D modelling and Pae Natwilai Utoomprurkporn, CEO and founder of Trik, has been featured on the BBC and within the Huffington Post, so is one not to miss! Trik uses a customised 4D data management system and will automatically turn drone photos into interactive 3D models. All data is stored on the 3D model, which can then be used to search back for original photos, compare structural changes and create maintenance plans.
5. Sensing Feeling - 'Sensing Feeling is an advanced human emotion sensor for business that uses advanced IoT sensor technology, computer vision and deep-learning/AI to passively determine customers emotional response to the environment provided to them, helping you to understand how engaged and delighted they are with the products and services provided to them. Sensing Feeling is an advanced human emotion sensor for business. The product is a game-changer in the field of Customer Experience, and has potentially disruptive applications within health, education, in-store retail, corporate workspaces, and travel & leisure sectors.
Across the IoT Ecosystem attendees can expect to hear from:
1. Fing - founded in 2009, Fing develops network scanning, network security and Wi-Fi troubleshooting apps and devices built for the Internet of Things. The free Fing network scanning app for iOS and Android has more than 30 million downloads. The Fingbox will be at the show, where attendees can see the evolution that the free Fing app brings to residential propertys simple network securities and troubleshooting features at an affordable price point. It raised over $1.7 million USD on Indiegogo. Fingboxes have since shipped to all backers and 30,000 homes have now purchased a Fingbox to secure their home and family online. Fing has offices in San Francisco, London, and Rome.
2. PurrMetrix - The PurrMetrix product measures, logs and analyses a range of important environmental variables - temperature, humidity, CO2, occupancy. You can use it to quickly build a deep understanding of the conditions affecting anything: from your greenhouse to a housing estate. By collecting high quality data from exactly where you need and making it easy to visualise where it comes from, they can help you make sense of what is happening. And by providing a range of analytical tools, alerts and reports they make it simple to dig deeper into your data and take the right actions.
3. Concept 13 - they constantly review and sell the very best sensors, install the most resilient gateways and configure the most stable networks, aiming to drive success and generate value. They also offer consultancy in IoT projects, technology selection, network architecture and innovation design. We help business using proven products, custom sensors or architected private deployments.
4. Embever - Embever have developed an energy efficient cloud-to-device-communication service for low-power IoT devices. "Embever Core" is a cloud-based middleware designed for developers to connect battery-powered IoT devices with their web applications in an easy and energy-efficient way. Embever provides firmware and hardware components for the devices that use optimized protocols to communicate with the Embever Core. The Embever Firmware enables devices to fall into deep sleep mode and to synchronize with the middleware depending on flexible settings. The intelligent messaging cache system of Embever Core ensures that no data gets lost while the devices are in deep sleep mode.
5. Swytch - Swytch are on a mission to make electric transport more affordable for everyone in the world so that it becomes a legitimate form of transport. They are putting the UK on the map as the centre for electric transport through applying innovative British engineering, the same that delivered Spitfire to the world, they even have a Bluetooth app to go with the e-bike. Expect a demo of their e-bike and an introduction to electric bike sharing schemes…
6. Dovetailed - will be demonstrating their nūfood 3D printing robot, by using a simple smartphone interface and a selection of ready-made flavour boxes, the robot can design and create unique shapes, explore exciting flavour pairings and bring fun back into food. Your perfect host to a dinner party or a family meal! Nūfood can also add intense flavour bursts to your favourite drinks. Using a digital flavour robot, you can add individual pearls of flavour to a drink or have bespoke 3D shapes that you can pop into a cocktail. Users can receive a few individually chosen flavours in the regular subscription box that arrives on your doorstep or select what types of flavours interest you and receive a selection or choose to receive random new flavours each month and let your creativity go wild.
7. See.Sense - a cycling technology and data company that helps make cycling safer and cities smarter. Its patented, connected products use advanced sensor technology and AI to improve cyclist safety, while crowd sourcing real-time environmental and transport data and insights for cities.
The conference will explore the impact of artificial intelligence across a wide selection of industries including: finance, insurance, healthcare, energy, utilities, government, public sector, marketing, advertising, retail, travel, sports, human resources, recruitment and many more. Topics include but are not limited to: Robo Advisors, Insurance chatbots, preliminary & automated diagnosis, virtual nursing assistants, predictive technology approaches within the energy sector, the significance & application of AI domestically and internationally customer engagement through chatbot usage, facial recognition techniques within the beauty industry and AI usage for recruitment.
Paid attendees can explore the co-located exhibition hall, the VIP networking delegate area, the networking app, the networking party (April 17th from 6.30- 12pm), recordings & presentations post event and lots of live keynotes, panels and case studies across the entire AI ecosystem. Ultimate pass holders can even gain access to the whole IoT and Blockchain ecosystem in addition. Free passes are also available.
Click here to register for your free or paid pass to the Global 2018 event on the 18-19 April in London.
Advance rate ends Tuesday 17th April so if you are looking for full conference and networking access, you can save up to £100 on your conference and networking pass (Gold/Ultimate) when you book by the 17th of April.
You can find out more about the World Series 2018 and register for each event here:
AI Expo Global - 18-19th April 2018, Olympia, London
AI Expo Europe - 27-28th June 2018, RAI, Amsterdam
AI Expo North America - 28-29th November 2018, Santa Clara, Silicon Valley
Notes for Editors:
About AI Expo
The AI Expo World Series (https://www.ai-expo.net/) hosts top level content and discussion introducing and exploring the latest innovations in the AI arena. Taking to London, Amsterdam and Santa Clara, delegates are invited to attend keynotes, panels and case studies, as well as explore the exhibition hall and network with c-level executives and thought leaders. It brings together key industries including Automotive, Enterprise, Consumer, Marketing, HR & Recruitment, Finance, Insurance, Public Sector, Government, Industrial, Healthcare, Developer and Education.
Featured Product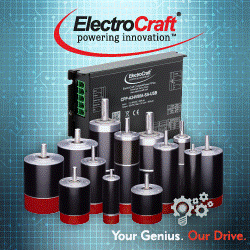 ElectroCraft exhibits its motion control product offer at Robotic related events at trade show and demonstrations across the world. We attend these events and conferences not only to show our motor and drive product offering, but to discuss and learn more about challenges involved with developing commercial robotics across markets.