Apple app development company secures £130,000 investment
11 April 2018. Birmingham-based Redbeard, a firm that develops code for Apple (iOS) apps has secured investment from the British Robotics Seed Fund (BRSF).

The BRSF has provided £80,000 funding alongside £50,000 from private investors. Monies will be used to expand the companys global development community and Code Store.
The investment sees Redbeard join the BRSFs portfolio of UK firms in robotics and machine learning related fields, from Zoa Robotics to Botskill and Tethered Drone Systems.
The Redbeard Code Store provides source code of complete end-to-end apps and trusted template code developed fully by its in-house team saving users time and money when developing Apple apps. This is critical as the Apple developer eco-system is growing at a phenomenal rate, with 13 million developers in total and two million having signed up in the last year alone.
This growth in developers means theres usually wide availability of Apple app templates through online app market places from individual developers who typically provide no ongoing support or updates resulting in poor quality of code. Redbeards business model offers an alternative approach as users know that its ready made apps are maintained and updated in accordance with any changes made by Apple to its developer framework.
Apps developed by Redbeard include those used to control drones and bots and the company targets app developers, digital and web development agencies, who have access to Redbeards apps either free, by paying for premium apps on the companys Code Store or using the companys custom app development service.
Dominic Keen, CEO of Britbots and the British Robotics Seed Fund commented: "We predict a bright future for Redbeard as their offer solves a very real challenge for anyone want to develop Apple apps. The team has strong experience in the mobile sector and has already developed apps for the UKs largest brands. Now this expertise is supporting thousands of developers launch Apple apps in an efficient manner."
Ansar Mehmood, co-founder of Redbeard, concluded: "By working alongside the British Robotics Seed Fund, we have been mentored throughout the critical early stages of our business, and have benefited from Dominics vast experience within the Software Industry. The funding we have received will take our company to the next stage and provide our customers with a powerful way to build and launch their apps"
http://www.redbeard.io/
http://www.britbots.com/
High Growth Robotics Limited, trading at Britbots, is a business mentoring company that seeks to champion the achievements of robotics start-up across the UK. Its services include: consulting on growth strategies; publicity via presentations and articles; and a think-tank on the use of robotics in public policy (www.britbots.com)
Featured Product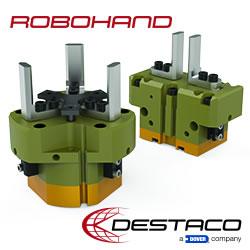 Destaco's Robohand RDH/RTH Series 2 and 3 jaw parallel grippers have a shielded design that deflects chips and other particulate for a more reliable, repeatable operation in part gripping applications ranging from the small and lightweight, to the large and heavy. RDH Series of Rugged, Multi-Purpose Parallel Grippers for Heavy Parts - Designed for high particulate application environments, automotive engine block, gantry systems, and ideal for heavy part gripping The series includes eight sizes for small lightweight to large/heavy part gripping. RTH Series of Powerful, Multi-Purpose Parallel Grippers for Heavy Parts - Designed for large round shaped parts, automotive engine block and gantry systems, and heavy part gripping. They're available in eight sizes for small lightweight to large and heavy part gripping.