Early adopters cite time, convenience, and traffic hassles as the biggest reasons for wanting a self-driving car, according to a Torc Robotics survey taken at CES 2018.
Early adopters cite time, convenience, and traffic hassles as the biggest reasons for wanting a self-driving car, according to a Torc Robotics survey taken at CES 2018.

"While the auto and tech industries are working to ensure the safety of this technology, its important to understand the problems that consumers hope it will solve," said Torc Robotics CEO Michael Fleming. "Its good to explore the motivations and promise of the technology, especially as we celebrate National Robotics Week," he added.
Torc surveyed more than 200 early adopters who wanted a ride in its Asimov self-driving car during CES. When asked why they would buy a self-driving car, respondents revealed three primary motivations: their desire to reclaim travel and commuting time, general convenience, and a way to reduce the stress and fatigue of driving. Improving traffic safety and increasing access to travel were also popular answers to this open-ended question.
The early adopters targeted by Torcs survey will be critical to the pattern of consumer adoption of self-driving technology. "Our respondents were highly motivated to visit our booth and ask for a ride with a firm most had no previous experience with," Fleming explained. "Many of these early adopters have been following the development of autonomous systems for the last decade."
Since its founding in 2005, Torc has been dedicated to increasing safety through robotics. The firm has commercialized its autonomous technology in defense and mining, and is now adapting its technology for self-driving consumer vehicles. Torc is also developing safety criteria for self-driving cars through a partnership with AAA.
"Autonomous systems have proven to be more reliable and consistent than human drivers," said Fleming, "but it wont matter if the public doesnt trust the tech. Thats why were working with the leader in auto safety, and value the consumer feedback we collected at CES."
The survey showed that 64 percent of people say they would feel safer if others were also using self-driving cars. Additionally, those given rides in Torcs self-driving car felt more comfortable after experiencing the technology.
"Before the ride, people reported feeling extremely nervous, but afterwards said they werent nervous at all," said Fleming. "While our post-ride numbers are not statistically significant, they do confirm what weve seen time and time again; people are more trusting of the technology after experiencing it first-hand."
Torc offered consumers private rides on the streets of Las Vegas during CES 2018 from January 9-12. The rides marked the start of the consumer-testing phase for commercializing Torcs Asimov self-driving car system.
"Weve got big plans for 2018, including a new look for our Asimov self-driving cars," said Fleming. "Public input and collaboration within the industry will continue to play a critical role in the commercialization of safe, trustworthy self-driving systems."
About Torc Robotics
Torc Robotics, headquartered in Blacksburg, Virginia, provides end-to-end self-driving solutions across multiple industries, including automotive, mining, and defense. Founded in 2005, Torc has integrated its components and systems on ground vehicles ranging from consumer SUVs to 300-ton mining trucks—in safety-critical environments. Torc first gained notice when it developed the self-driving software stack for Virginia Tech in the 2007 DARPA Urban Challenge. As one of three winners of the DARPA Urban Challenge, Torc has commercialized this technology through partnerships with original equipment manufacturers (OEMs) and their Tier 1 suppliers.
Featured Product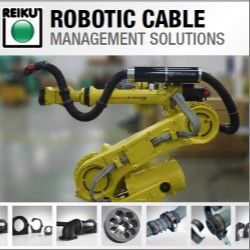 REIKU's Cable Saver™ Solution eliminates downtime, loss of revenue, expensive cable and hose replacement costs, maintenance labour costs. It's available in three sizes 36, 52 and 70 mm. All of the robots cables and hoses are protected when routed through the Cable Saver™ corrugated tubing. The Cable Saver™ uses a spring retraction system housed inside the Energy Tube™ to keep this service loop out of harms way in safe location at the rear of the Robot when not required. The Cable Saver™ is a COMPLETE solution for any make or model of robot. It installs quickly-on either side of the robot and has been tested to resist over 15 million repetitive cycles.