It involves 110 ccm, 2-stroke power plant that has been provided with a new injection and ignition. The basic engine originates from the firm of 3W-International.
3W-International GmbH's performance partner, Sky Power GmbH, will introduce the first advanced engine to the professional public at Xponential 2018 in Denver. It involves 110 ccm, 2-stroke power plant that has been provided with a new injection and ignition. The basic engine originates from the firm of 3W-International.

Sky Power's R&D department further developed the engine SP-110 FI TS based upon the successful 3W-110i B2 TS FI engine. "Many of our customers inquired about a consumption-optimized version of the engine", according to Karsten Schudt, managing partner of 3W-International GmbH. That's why the Hessian engine builder granted the contract to further develop the engine to Sky Power with the goal of reducing consumption and thus increasing the range and take-off weight.
The SP-110 FI TS was equipped with the new ECU030 injection and the new HKZ215 ignition. "Thanks to the two new systems, the engine can be tuned exactly to environmental conditions as well as to the customer's wishes", explains Karl Schudt, managing director of Sky Power GmbH. The ECU030 injection system is usable for both gasoline mixtures and HF applications. The system has four ignition channels with two separately settable injection nozzles. Pump pressure is regulated electronically. A cold-start function of the engine is possible without further ado. The automatic controller adjusts the fuel mixture to the current cylinder temperature, air pressure, and exterior temperature. All of the engines data can be monitored via a PC and can be readout by a CAN-BUS-interface. The user interface is intuitively constructed so that all of the engine's settings can be easily carried out.
The high-performance HKZ system was developed for significantly greater ignition powers. The engine's overall fuel efficiency is thereby enhanced and the exhaust values improved. All of the add-on components, such as connector plugs and spark plug connectors, are designed and shielded for challenging application areas. "With the new ignition and injection system, we achieve better power performance in 3W engines", explains Karl Schudt. Fuel reductions at constant power proved achievable during test runs with the 3W-110i B2 TS FI. Thus a fuel reduction by more than 20% was achieved at 5500 rpm. "The results aloft also surprised us, but they clearly show what is possible in the area of efficient fuel and engine management", according to Karl Schudt. Sky Power is also offering to convert propulsion systems already in use on the market. For this purpose, the engine has to be sent in to the new service centre in Germany.
3W-International and Sky Power are exhibiting together at booth 2210.
*****
Sky Power GmbH is 3W-International GmbH's performance partner. 3W-International is the leading manufacturer of 2-stroke internal combustion engines for UASs (unmanned aircraft systems). Sky Power's function resembles that of a contract tuner for a car manufacturer. Customer adaptations, new developments, and the performance enhancement of 3W products are the goal of the partnership. Customer requests and new customer developments are also carried out.
Featured Product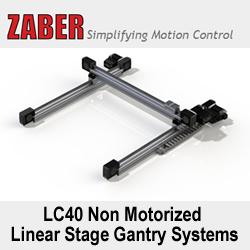 A Zaber gantry kit comes with everything you need to build a customized XY gantry system or XYZ gantry system. These gantry systems feature coordinated multi-axis motion, plug-and-play operation, easy integration with end-effector options, and built-in IO and E-Stop capabilities. An intuitive ASCII interface allows the user to easily communicate with the gantry systems using our free software, either Zaber Motion Library with APIs for several popular languages or Zaber Console. Third party terminal programs that can communicate over a serial port can also be used.