Aeryon increases its presence at AUVSI Xponential, the worlds largest unmanned systems conference in Denver, CO.
Aeryon Labs Inc. announced they are the premier sponsor for the first ever AUVSI Public Safety UAS Forum scheduled for May 1-2 at XPONENTIAL in Denver, CO. The two-day forum, co-produced by AUVSI and the National Public Safety UAS Council (NPCSU), will cover various public safety topics from humanitarian response in the aftermath of disasters, to integrating UAS into police and fire service operations, search and rescue and more.

"From aiding in search and rescue operations, to streamlining traffic accident reconstructions, Aeryons high-performance Unmanned Aircraft Systems can be a game-changer for a wide range of public safety operations," said John Bagocius, Vice President of Public Safety Solutions in North America. "We're working with fire and police agencies to build successful and growing UAS programs and were thrilled to help build a community for public safety UAS operators to share best practices and lessons learned."
Interested AUVSI attendees can register for the UAS Publicy Safety Forum here: https://goo.gl/R1ZNwv
Along with their involvement in the Public Safety Forum, Aeryon Labs and Aeryon Defense USA, are also hosting a floor exhibit showcasing their latest UAS technology. Both companies can be found in the XPO hall at Booth #2207.
At various times during the XPO Aeryon will conduct live flight demonstrations in the outdoor drone demonstration area located on the top level of the the Denver Convention Center parking garage. Those interested in viewing the outdoor flight demonstrations can find the full schedule here: https://goo.gl/9XyJFt.
Finally, Aeryon Labs has been named a finalist in the XCELLENCE Awards by the Association for Unmanned Vehicles Systems International (AUVSI) for their humanitarian and disaster relief work after Hurricane Irma. Aeryon was selected from a pool of accomplished applicants as one of eight finalists for the Humanitarian Award, sponsored by DJI. Winners will be announced during the keynote session on Thursday, May 3 at AUVSI XPONENTIAL at the Colorado Convention Center in Denver.
"The unmanned systems industry is innovating at an incredible rate and creating tremendous benefits for our economy, lifestyle and society," said Brian Wynne, president and CEO of AUVSI. "The XCELLENCE awards give us a chance to recognize the companies and individuals who are propelling the industry into the future."
For more information on Aeryon & Aeryon Defenses presence at the upcoming show click here: https://goo.gl/9XyJFt
---
About Aeryon
Aeryon Labs, Inc. is a leading provider of high-performance drones and software solutions for global military, public safety, and commercial customers. Aeryons battle-tested Unmanned Aircraft Systems set the standard for real-time, secure, aerial intelligence across a wide range of mission-critical applications from clandestine tactical missions, to search and rescue operations, to commercial inspections and more. Aeryon drones are deployed with over 20 militaries and in use with customers in over 30 countries. Visit http://www.aeryon.com to learn more.
Featured Product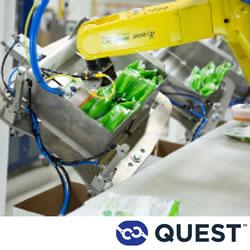 Quest is a leading manufacturer of industrial automation equipment focusing on robotics and vision-guidance. With expertise in the food, beverage, and dairy, Quest optimizes floor space for customers experiencing growing demand and helps improve their overall production line flexibility and efficiency. Quest offers application-specific software on their robotic products, including pick and place, case packing, and palletizing systems to simplify system setup and streamline configurability. Quest is a product brand of ProMach, a global leader in packaging line solutions.