Developed specifically for unmanned applications, the solutions are compact, have wide field-of-view enabling orientation in the field, feature a high level of stabilization, and support intuitive communication
AUVSI XPONENTIAL 2018, May 1-3, Colorado Convention Center, Denver, Booth #2138

April 23rd, 2018. CONTROP USA Inc - a subsidiary of CONTROP Precision Technologies Ltd. specializing in electro-optics and IR defense and homeland security solutions - will present its extensive range of EO/ IR end-to-end solutions for unmanned vehicles for air, land and maritime platforms, at AUVSI XPONENTIAL 2018 in Denver.
"CONTROP is one of a few companies in the unmanned systems world that can trace their activity back to the 1980s. We have been working in this field for over 30 years, and we are proud of our large range of payloads, which combine minimal SWaP, high electro-optical performance and a very high level of stabilization," says Mr. Hagay Azani, CONTROPs VP Marketing and Sales. "In the R&D process, we take into account all relevant requirements regarding the missions and environmental conditions that the Unmanned Systems must withstand, i.e. the need for the platform to move independently in the field, sometimes at a great distance from the operator, very often under harsh conditions, and provide advanced technology solutions for these issues. For decades, our systems have been installed successfully on dozens of unmanned platforms -airborne, ground and naval - to the great satisfaction of our customers."
CONTROP's line of unmanned systems payloads includes:
• The STAMP family of gyro-stabilized miniature payloads - specially designed for day and night tactical over-the-hill reconnaissance missions on small aerial unmanned platforms. Lightweight yet ruggedized, the STAMPs provide precise geolocation and can withstand high-shock landings. With low power consumption, the STAMPs provide the most cost-effective solution of their type.
• The iSky family of aerial payloads - uniquely developed to be installed on unmanned aerial platforms to provide solutions for most medium and long-range aerial surveillance missions in the challenging and often turbulent aerial environment. The iSky systems all feature real-time image enhancement features, built-in INS and automatic target tracking.
• The Land-based family of Scanning and Observation systems includes the SPIDER, MEOS and SPEED-ER systems. Ideal for Counter-UAS applications, those systems incorporate a unique and highly sensitive panoramic scanning technology enabling automatic detection of very small and low flying drones. The systems integrate a thermal imaging camera with advanced electro-optics, and a day camera. SPEED-ERs 3 channels - Visible, Thermal and SWIR (Short-Wave Infrared) - ensures sharp, clear and high resolution pictures, even in conditions of haze, dust, rain or high humidity, and at any hour of the day or night. The combination of the continuous zoom lens of the IR camera, and the full-color live video cameras, allows the systems to automatically perform wide area surveillance, providing highly accurate real-time day and night UAS detection and tracking capabilities.
• The iSea family of maritime payloads are specially designed to withstand the unique and harsh environmental conditions at sea. A line of six (6) gyro-stabilized full size multi sensor EO/IR payloads, these systems are perfect fit for any Unmanned Surface Vehicle. All of the CONTROP iSea day/night camera payloads have an easy interface to Radar for slewing the EO/IR camera to the detected target. The iSea payloads are operated by CONTROP's proprietary Electronics Box, which includes a Video Tracker as well as Video Enhancement algorithms and a Picture-in-Picture feature.
About CONTROP USA Inc.
CONTROP USA Inc. is an independent, wholly owned subsidiary of CONTROP Precision Technologies Ltd. CONTROP USA specializes in the development, production, and integration of electro-optical and precision motion control systems for surveillance, defense, and homeland security. CONTROP USAs main product lines include: high performance stabilized observation payloads used for day/night surveillance onboard UAS, small UAS and aerostats/balloons, helicopters, light aircraft (A/C), maritime patrol boats and ground vehicles; automatic intruder detection systems for coastal and border surveillance, port/harbor security, the security of sensitive sites and ground troops security; thermal imaging cameras with high performance continuous zoom lens and state-of-the-art image enhancement features.
Headquartered in outside of Washington DC, CONTROP USA is currently leading two prime contracts providing UAS Payloads and Terrestrial Systems supporting multiple DOD, DHS, and SOF tactical units of action, through program offices including Combatting Terrorism Technical Support Office (Tactical Operations Support), Naval Air Program Management Activity (PMA) 263, and the Department of Homeland Security (DHS-CBP). CONTROP USA provides ongoing field support as required for fielded payloads and programs for local and state agencies, as well as the FAA. The former US Special Operations (Army Special Forces and NSW) and SECRET-cleared personnel provide program management, integration, and ongoing field service for all customers.
For more information on CONTROP USA Inc., please visit the company's website: www.contropusa.com
Featured Product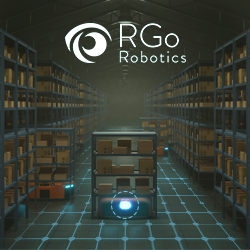 RGo's intelligent vision and AI system, Perception Engine™, provides mobile robots with 3D perception capabilities, enabling them to understand complex surroundings and operate autonomously just like humans. Its camera-based system operates is able to localize, map, and perceive in even the most robust environments including indoor/outdoor and dynamic or unstructured environments.