Jupiter craft offers the commercial drone market high endurance, a large payload capacity, and unprecedented flexibility.
FlightWave Aerospace Systems, Inc. announced today that it will display its hydrogen-or-battery-powered Jupiter UAS at AUVSI XPONENTIAL 2018 in Denver (May 1-3) at the Intelligent Energy stand (2526). The aircraft is the first product featuring Intelligent Energys lightweight 650-W Fuel Cell Power Module and has the potential to be a game-changer in the commercial drone market.

The combination of FlightWaves cutting-edge Jupiter UAS Platform and Intelligent Energys lightweight Fuel Cell Power Module dramatically increases its capabilities. Innovative energy technology enables the Jupiter to fly for over two hours with hydrogen fuel or fifty minutes with a lithium-ion battery pack. This provides unprecedented flexibility: the first commercially-available UAS that can be powered by either a battery pack or hydrogen pack. The two power systems can be swapped in a matter of seconds thanks to an easy-to-use, tool-free mounting system. The Jupiters hydrogen power module system houses the hydrogen tank, regulator, and Intelligent Energys fuel cell stack in a single unit.
Large energy storage allows Jupiter to carry more than two pounds of payload, including additional on-board computing power.
FlightWave Director of Business Development, Callie Mortimer, hopes the Jupiter UAS will allow hydrogen to become a viable option for the commercial UAS market. "Hydrogen as a fuel source is the future and our Jupiter platform gives the consumer a choice of energy source. We feel the capabilities of this craft will push the adoption rate of hydrogen fuel cells in the marketplace."
Here are more distinguishing features of the Jupiter UAS:
High Endurance: The Jupiter nearly quadruples the endurance of a typical battery-powered UAS. Counter-rotating and tilting fans save power while increasing stability and maneuverability.
Heavy-Lift: The craft is designed to carry powerful computing platforms and the latest sensors and equipment. Jupiter measures only 72 cm tip to tip and is powered by eight high-performance motors and propellers with a lift capacity over a kilogram.
Independent Tiltrotors: Two forward pods rotate in pitch, while the back two rotate in roll. This allows for motion in any direction without tilting the frame, and the ability to rotate in place with no tilting or translation. This dual-axis architecture allows for very precise maneuvering in indoor environments and high wind rejection outdoors.
Interchangeable Power Modules: The hydrogen module is a drop-in replacement for the battery. This allows for extended endurance without having to buy a new airframe or learn a new system. Users can upgrade from battery to hydrogen at any time.
Compatible Payloads: All FlightWave payloads can be used interchangeably with any FlightWave UAS platform. We make it easy to get the best tools in the air quickly. Whether your needs include Jupiter or Edge, payloads can be used interchangeably. Youll never need to buy the same sensor twice for a different craft - put more money toward your mission.
Quiet, Clean, and Green: Hydrogen fuel cells have no moving parts, are virtually silent, and pollution-free, emitting only a tiny amount of water vapor.
About FlightWave
FlightWave Aerospace Systems Inc. is a California-based aerospace company that designs and manufactures unmanned aerial systems. Our groundbreaking technology enables aerial operations anywhere on the planet, empowering government agencies, private companies, and nonprofits to get more mission for their money. Whether your goal is protecting assets, mapping the environment, or monitoring wildlife, FlightWave has one mission in mind — yours. Learn more about FlightWave at http://flightwave.aero.
Featured Product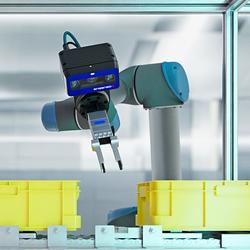 IDS NXT: a platform for a new generation of vision systems for industrial applications. It lays the groundwork to provide easy-to-use yet flexible complete systems that can be used to implement all steps of a vision solution. With IDS NXT ocean, a complete solution especially for AI-based image processing is now available. It allows to solve tasks where classic, rule-based image processing has reached its limits - without any programming effort.