New Tools Give Construction Companies Better Access to Drone Data to Reinvent Job Site Reporting
SAN FRANCISCO--(BUSINESS WIRE)--DroneDeploy, a drone software company with the largest drone data platform in the world, launched its construction solution to meet the industrys growing demand for aerial site intelligence. It includes a tool that simplifies project progress photo collection, a partnership with Uplift Data Partners — an enterprise drone pilot network — enabling construction companies to scale drone operations faster, and a new Accuracy Package designed specifically for construction professionals.

Progress Photos Streamline Site Documentation and Reporting
Progress Photos is the first tool allowing customers to intuitively plan photo flights, automatically capture corner images, immediately create a visual timeline of a job site, and generate a replicable weekly progress report. The feature simplifies data collection workflows and consolidates data storage (including photos, maps, and 3D models) in one easy-to-share platform.
"Regular site progress reports offer context and add new dimensions to construction projects. However, its difficult to create consistent site imagery over the course of a project," said Mike Winn, CEO of DroneDeploy. "Progress Photos solves this by creating a visual timeline of a project from start to finish. In doing so, it saves costs, keeps stakeholders informed, and addresses safety risks."
Drone on Demand Pilot Partnership with Uplift Data Partners
DroneDeploy recently launched Drone on Demand, a streamlined way for companies to collect drone aerial imagery and generate business insights. The solution lets customers plan a flight, then request a certified professional drone pilot from DroneDeploy's partner, Uplift Data Partners, to fly the mission and collect the aerial data — all in the DroneDeploy platform.
"Uplift Data Partners is a turn-key solution for construction companies to adopt drone data into their business operations. Customers simply tell us where they want us to fly; we fly and they get engineering grade data," said Suzanne El-Moursi, President of Uplift Data Partners. "Were proud to partner with DroneDeploy to allow a wider range of construction organizations to unlock the power of drone insights."
Construction Accuracy Package
The Construction Accuracy package combines precision features and industry leading integrations to manage project workflows from an easy-to-use drone data platform. Construction Accuracy Package customers can enjoy unlimited ground control point (GCPs) location data and unlimited digital terrain models (DTMs) — plus Progress Photos and the tools, capabilities, and support available in DroneDeploy's higher tier plans.
ABOUT DRONEDEPLOY
DroneDeploy is the leading cloud software platform for commercial drones, and is making the power of aerial data accessible and productive for everyone. Trusted by leading brands globally, DroneDeploy is transforming the way businesses leverage drones and aerial data across industries, including agriculture, construction, mining, inspection and surveying. Simple by design, DroneDeploy enables professional-grade imagery and analysis, 3D modeling and more from any drone on any device. To learn more visit www.dronedeploy.com and join the conversation on Twitter @DroneDeploy.
ABOUT UPLIFT DATA PARTNERS
Uplift Data Partners enables enterprise companies to capture aerial data. The platform solves for compliance, airspace, and dispatch of commercially trained pilots at the touch of a button. The company operates America's most experienced network of certified drone pilots over construction sites. Uplift's turnkey data service supports construction managers and BIM engineers during pre-construction, construction and inspection. Uplift drones collect 3D data accurately to five centimeters, preventing rework, reducing waste, increasing safety, and boosting margins. Based in Chicago, the privately held firm operates across North America. We Fly. You Get Data.
Featured Product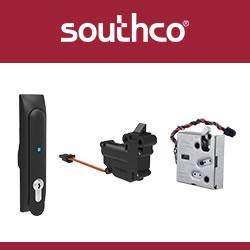 Many robotics engineers need to securely mount and latch sensitive electronic components in their robotics applications; Southco is able to help reduce theft and vandalism with our proven and reliable access technologies. Learn how Southco can help secure your robotics, or other smart city application, from theft and vandalism.