Newly launched SkyHopper VU offers Mobile HD Video & Data Receiver that enables content consumption and information sharing capabilities. SkyHopper VU offers a high-end solution at a competitive price point.
SkyHopper by Mobilicom has released its fourth product, the SkyHopper VU, a Mobile HD Video & Data Receiver that enables real-time HD video and broadband data content consumption, shared and distributed to multiple viewers simultaneously. By offering content consumption and a viewing terminal product, SkyHopper makes an important step to become an end-to-end, high-end component provider for the drones & robotics market.

The SkyHopper VU (Viewer) is targeted within security & surveillance, mining and resources applications. The SkyHopper VU improves the operational capabilities of any mobile team by providing real-time HD video & broadband data reception, essential for situation awareness & efficient operations.
A few of SkyHopper VU key features include:
Built to enable mission-critical operations
Unified, encrypted & secured device with multiple elements
Toughpad multi-touch Tablet
Receiver unit
User replaceable Battery
Power supply & Antenna
Light & compact
Extended Ruggedized grade
Configurable receiver unit
Dual receiver antenna & GPS location base services
All-weather IP65 Dust and Water-resistant Design
7 Windows Tablet with Intel 6th Generation core M5 Processor
Powered by Windows 10 Professional
Daylight readable
"As SkyHopper services additional essential components of the drone system solution, its customers will see benefits across quality, cost and efficiency," stated Oren Elkayam, Mobilicom CEO.
Coming to the Colorado Convention Center in Denver, CO for the AUVSI XPONENTIAL 2018 from April 30th through May 3rd, Mobilicom will showcase the all new SkyHopper VU.
For additional information about the SkyHopper VU, please visit our website: http://www.skyhopper.biz or contact us directly at: marketing(at)mobilicom(dot)com
Featured Product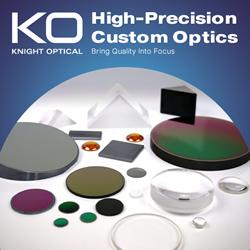 Knight Optical (KO) has provided discerning engineers, designers, and the like from the automation sector with dependable, premium-quality optics for over three decades. Throughout this time, the leading supplier has helped refine the precision of some of the world's most innovative technologies and partnered with a wide range of companies throughout the industry. In this article, Automation talks to KO about its involvement in the sector and, ultimately, finds out more about how the optical brand can help your supply chain process.