Stop by booth #712 to see how two innovative companies inspire ground-breaking changes in the world of 3-D mapping
SAN JOSE, Calif.--(BUSINESS WIRE)--Demand for 3-D scanning technology keeps rising in vehicle safety, aerial mapping, and security, but not all options can strike the perfect balance between reliability and affordability. Many systems can be large, just as heavy, and expensive to implement on a massive scale. These roadblocks did not fit LiDAR USAs plan. As an economical unmanned aerial vehicles (UAV) and mobile mapping business, LiDAR USA was looking for a small, high-quality, and affordable mobile system to fit its needs. Enter Velodyne LiDAR.

In 2010, LiDAR USA transitioned from a business specializing in photogrammetric aerial triangulation and surveying to a manufacturer of mobile LiDAR systems using the Velodyne HDL-32E as its central scanning device. Since then, LiDAR USA has not looked back.
"When first starting LiDAR USA, my son and I were exploring a number of opportunities around mapping technologies. After much searching, we stumbled upon Velodyne," says Jeff Fagerman, chief executive officer of LiDAR USA. "By continuing to deliver even smaller, lighter, and affordable scanners, Velodyne remains our vendor of choice for our aerial mapping solutions. We cant wait to see where our collaboration takes us next."
By 2012, Velodynes HDL-32E was fully united with LiDAR USAs ScanLook Revolution. Today, LiDAR USA is using a variety of products from Velodyne including the Puck™ and Ultra Puck™ for 3-D mapping accident scenes, quarries, agriculture, forestry, and more. To date, Velodynes sensors have been installed in thousands of applications around the world, traveling millions of real-world miles and continuing to solve real-world problems.
At AUVSI XPONENTIAL 2018, booth #712, Velodyne and LiDAR USA will showcase their ongoing collaboration in the UAV industry by demonstrating innovative and efficient mapping applications at an affordable price. For example, the two companies will spotlight the all-electric LiDAR helicopter Velos UAV, which offers an affordable UAV solution with an hour of flight time, vertical take-off and landing advantages, and can lift up to 10 kilogram payloads for transport, if necessary. This enables drone pilots to fly with a state-of-the-art LiDAR sensor that performs better on demanding mapping missions to save time, reduce operating costs, and increase quality of the work.
"The Velos UAV is one of the safest UAV helicopters ever made and offers very high levels of stability for accomplishing the most demanding scenarios," says Frank Bertini, UAV and robotics business manager at Velodyne. "This UAV helicopter is just one of the many examples of our work with LiDAR USA and we are excited to see how else our collaboration shapes the aerial mapping industry."
To see Velodyne and LiDAR USAs aerial mapping solutions in action, stop by booth #712 at AUVSI XPONENTIAL 2018 at the Colorado Convention Center in Denver from April 30 - May 3.
About Velodyne LiDAR
Founded in 1983 and headquartered in Silicon Valley, Velodyne is a technology company known worldwide for its real-time 3-D LiDAR computing and software platforms. The company evolved after founder/inventor David Hall developed the HDL-64 Solid-State Hybrid LiDAR sensor in 2005. Since then, Velodyne LiDAR Inc. emerged as the unmatched market leader of real-time 3-D vision systems used in a variety of commercial applications including autonomous vehicles, vehicle safety systems, mobile mapping, aerial mapping, and security. Its products range from the high-performance, surround view Ultra-Puck™ VLP-32, classic HDL-32/64 and cost-effective VLP-16, to the upcoming, hidden Velarray™. Velodynes rich suite of perception software and algorithms are the key enablers of its perception systems. Velodyne supports customers from offices in San Jose, Detroit, Frankfurt, and Beijing. For more information, visit http://www.velodynelidar.com
About LiDAR USA
Fagerman Technologies, Inc. (dba LIDAR USA) was founded in 1999 by Jeff Fagerman on the outskirts Huntsville, AL - an area that is rich in technology from Redstone Arsenal and Marshall Space Flight Center. LiDAR USA is steeped in photogrammetric system development and service, as well as land surveying. LiDAR USA has continuously pioneered the development of cost effective, sophisticated mobile and UAV LiDAR and imaging systems. LiDAR USAs systems are easy to operate and come with LiDAR USAs ScanLook PC software, a robust point cloud processing solution. For more information, visit http://www.lidarusa.com.
Featured Product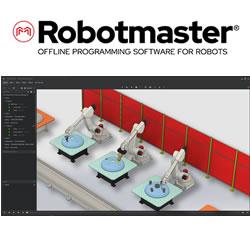 Robotmaster® offline programming software for robots helps manufacturers maximize their productivity and profitability with an intuitive and powerful programing solution ideal for production runs of all sizes and varying part complexity as a result of integrated CAD/CAM functionality.