Announces New Public Safety Customer
DENVER--(BUSINESS WIRE)--Edgybees, whose technology enables augmented reality on high speed platforms like drones and cars, today announced that it will showcase new life saving drone technology at AUVSI Xponential in Denver, Co, from May 1-3 (Booth # 3337A).

Edgybees First Response app was successfully deployed by emergency teams responding to Northern California wildfires and post-hurricane flooding in Florida. New security uses of the application include safeguarding against school shootings, bridge collapses and border security measures.
Currently, Edgybees is being used by dozens of police and fire departments in the US and around the world, including a new partner announced today, Alachua County Fire Rescue in Gainesville, Florida.
"We have used Edgybees software, and find it an invaluable tool," says Alachua County Fire Rescue Network Specialist, Tim Davis. "It allowed us to decrease the number of different apps our pilots and command staff use keeping us not only efficient but proficient. The augmented reality supplied, provided an increased level of mission security and safety through the decrease in radio traffic required on scene of a major incident."
The media and attendees are invited to a live demo at AUVSI Xponential, where they can view the technology firsthand with Edgybees CEO Adam Kaplan and Fly Motion CEO Ryan English, and learn more about how Edgybees is using new technologies to maximize situational awareness not only in public safety and defense, but in broadcast, automotive, smart cities and more.
Kaplan and English will be speaking on a panel where they will share how Edgybees was used in 2017 to respond to dozens of emergencies, including restoring power in the aftermath of Hurricane Irma. They will walk through their live video overlay technology in the context of these real-world use cases. The pair will explain how these tools improve the situational awareness of pilots and incident commanders by overlaying maps, point of interest markers, and the locations of moving assets like people directly into the drone video streams.
When and Where: May 3rd at 2.30pm, Colorado Convention Center, Starting Point Theater
If you are interested in setting up a live demo at Xponential, email leah@edgybees.com or visit booth 3337A.
About Edgybees: Edgybees Ltd. created the worlds first augmented reality development platform for fast-moving platforms like cars, airplanes and UAS, and body-worn accessories. Edgybees is headquartered in Israel and has offices in Europe and the United States. Edgybees recently announced a $5.5 million funding round with participation by OurCrowd, Verizon Ventures, Motorola Solutions Venture Capital, 8VC and NFX. For more information, visit www.edgybees.com.
Featured Product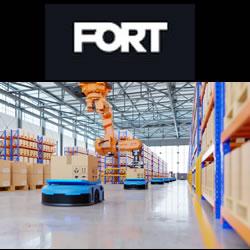 Machine safety and security are two critical components of any industrial operation. Our latest video explores this question and provides insights into how security measures can enhance machine safety. Nivedita Ojha, VP of Product at FORT, breaks down the key considerations when it comes to securing your machines and keeping your workers safe, explaining why there is no safety without security.