Register for the OCTOPUZ + Yaskawa Welding Technologies Webinar - Learn about the latest welding technologies in both software and hardware.
The combination of robotics and welding is not new. However, robotic welding continues to see technological advancements, increasing both performance and market adoption. OCTOPUZ and Yaskawa are at the forefront of robotic welding advancements.

In this webinar of approximately 30 minutes, you will see why OCTOPUZ is a powerful solution for robotic programming and simulation for welding applications. We'll provide an overview of the key welding capabilities and features in OCTOPUZ including touch sensing and automated external axis calculations.
In this webinar you will also see a presentation by Yaskawa, showcasing the latest in their Seam Finding and Tracking technologies.
Highlights of topics within this webinar include:
• OCTOPUZ Library of Yaskawa components
• OCTOPUZ Cell creation
• Welding Programming with OCTOPUZ
• Welding Simulation with OCTOPUZ
• Yaskawa Seam Finding Technologies
• Yaskawa Seam Tracking Technologies
We will provide a copy of the recording of this webinar after the live webinar is hosted for your convenience.
Webinar Details
Date: Thursday, May 10th, 2018
Time: 10:00am EDT
Register by visiting our website.
Featured Product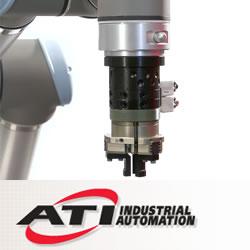 ATI Industrial Automation's MC-10 Manual Tool Changer provides a cost-effective solution for quickly changing tools by hand. Its compact yet robust design is optimized for collaborative robot applications. The ergonomic twist-collar locking mechanism ensures a secure attachment of the tool and easy manual operation with tactile feedback. This Manual Tool Changer can carry payloads of up to 22 lbs and includes multiple fail-safe features that resist vibration and prevent loosening. The MC-10 Manual Tool Changer has integrated air pass-through connections and options to connect electrical utilities if needed. ATI will feature the new MC-10 along with a variety of other robotic demonstrations and product displays at this year's IMTS show in Chicago (Booth #236417).