Dr. Marco Pavone, a world-leading expert in robot autonomy, joins Coasts Advisory Board
Coast Autonomous, a self-driving vehicle technology company, announced today that one of the worlds leading experts in robot autonomy has joined its Advisory Board to work with the Company to further develop its autonomous vehicle fleet management software and controls.

Dr. Marco Pavone is an Assistant Professor of Aeronautics and Astronautics at Stanford University and the Director of Stanfords Autonomous Systems Laboratory (ASL). Dr. Pavones cutting-edge work in robot autonomy has earned him accolades in the scientific, academic and business communities. His seminal work in this area has shaped our understanding of the operation of autonomous systems in space exploration as well as on Earth.
Dr. Pavone joins three-time Indianapolis 500 winner Dario Franchitti on Coasts Advisory Board. Franchitti provides his considerable expertise on safe driving to further advance Coast Autonomous best-in-class self-driving software.
"I am thrilled to be working with Coast. I am very familiar with Coast CTO Pierre Lefevres work with low-speed autonomous vehicles, as we tested his first prototype shuttle at CARS (Center for Automotive Research at Stanford) in 2012. It was exciting to see Pierre and the Coast team launch the Coast P-1 Autonomous Shuttle. There is no doubt that autonomous vehicles will be an integral component of future mobility systems. In my opinion, the immediate opportunity is to deploy low-speed vehicle fleets. Coast is perfectly positioned to do so. It will be exciting to offer my advice as the Coast team begins deploying their affordable fleets. I look forward to learning from this experience and am grateful to Pierre and the Coast team for the invitation to join their Advisory Board."
"I have been following Dr. Pavones remarkable career in robotics and fleet management for some time," said Lefevre. "It is an incredible honor and an amazing opportunity for Coast to have access to his knowledge and expertise. Fleet management likely will prove to be a key component to the deployment of large numbers of autonomous vehicles. Working with Dr. Pavone and having access to his renowned expertise will give Coast a real advantage. Proper fleet management improves the customers overall experience and reduces the number of vehicles needed to provide an efficient service. This helps solve traffic problems and reduces cost for the fleet operator while offering a better service for the customer. The opposite is true also; bad (or non-existent) fleet management results in increased traffic and a worse service. This will be an exciting collaboration and we are very grateful to Dr. Pavone for agreeing to join Coast."
About Coast Autonomous:
Coast Autonomous is a software and technology company focused on delivering AV solutions for low-speed environments. At the center of one of the fastest and most profound disruptions to impact the transportation and logistics industries, Coast has developed a complete suite of Autonomous Vehicle (AV) software that includes mapping & localization, robotics & artificial intelligence (AI), fleet management and supervision systems. Partnering with proven manufacturers, Coast can provide a variety of vehicles equipped with its best-in-class software to offer Transportation-as-a-Service (TaaS) solutions to cities, theme parks, campuses, airports and other low-speed environments. Based in Pasadena, California, Coasts team is recognized for its experience and expertise in all aspects of implementing and operating AV fleets while prioritizing safety and the user experience. To learn how Coast Autonomous can help you power autonomous transportation in your environment, please visit http://www.CoastAutonomous.com.
About Dr. Marco Pavone:
Dr. Marco Pavone is an Assistant Professor of Aeronautics and Astronautics at Stanford University, where he is the Director of Stanfords Autonomous Systems Laboratory (ASL). The goal of ASL is the development of methodologies for the analysis, design and control of autonomous systems, with an emphasis on self-driving vehicles, autonomous aerospace vehicles, and large-scale robotic networks. Before joining Stanford University, Dr. Pavone was a Research Technologist within the Robotics Section at the NASA Jet Propulsion Laboratory. He received a Ph.D. degree in Aeronautics and Astronautics from the Massachusetts Institute of Technology in 2010. Dr. Pavone is a recipient of several awards, including a Presidential Early Career Award for Scientists and Engineers -- the highest honor bestowed by the U.S. government on early-career scientists and engineers.
Featured Product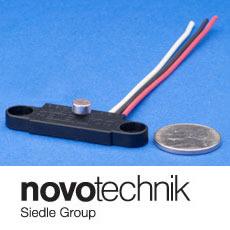 Vert-X 05E Series of dual angle/speed sensors. The series features easy mounting in small and narrow spaces with a 5 mm body depth and mounting flanges with metal inserts. The sensors make measurements only 6 mm from edge of product for close-to-wall measurement applications. Vert-X 05E Series sensors measure angles from 0 to 360°, rotational speed and direction with repeatability to 0.1°.