D3 DesignCore™ DMS Kit features FotoNation algorithms and TI processors in a production-intent design for rapid development of driver monitoring systems. Ready for field testing, the kit supports applications including operator authentication, eye gaze, and drowsiness detection for semi-autonomous systems
Rochester, NY - May 14, 2018 - D3 Engineering today announced its DesignCore™ Driver Monitoring System (DMS) Development Kit. The production-intent kit features industry-leading algorithms from FotoNation, running on D3s proven DesignCore™ rugged vision platform with a Texas Instruments TDA3x advanced vision processor, and two D3 camera modules with 2MP sensors.

The DesignCore DMS kit is a fully-contained DMS solution with both hardware and algorithms. Easy to set up and use, it enables true evaluation of DMS technology—and provides a clear path to production for both integrated and after-market DMS solutions.
The DesignCore DMS Kit supports automotive use cases for Level 2 and Level 3 autonomous vehicles, ensuring that the driver is ready to take over at any time. It also supports additional use cases such as operator authentication and drowsiness detection, which are advantages for both automotive and industrial autonomous systems.
FotoNation algorithms—including eye gaze tracking, face detection, head position tracking, and 3D facial feature detection—enable state-of-the-art attentiveness assessment and fatigue detection. The kit is biometrics-ready with both face and iris recognition, enabling in-cabin security and customization based on driver identity.
"We are pleased to partner with FotoNation, a clear leader with a strong history in algorithm development for biometrics and facial detection and tracking," said Jerome Barczykowski, product manager for autonomous systems at D3 Engineering. "FotoNations Deep Learning based technology performs with great accuracy. The continually expanding database allows for a robust embedded driver monitoring and driver identification solution with our DesignCore platforms."
The D3 DesignCore™ RVP-TDA3x electronics control unit (ECU) integrates a TDA3x advanced vision processor from Texas Instruments into a production-intent design. The TDA3x SoC processor is a cost-effective and powerful solution for advanced driver assistance systems (ADAS), with the optimal mix of performance, low power and vision analytics.
Two D3CM camera modules enable driver monitoring and iris tracking. The cameras feature a 2MP sensor and IR illumination for operation in all lighting conditions, as well as an RGB LED for user feedback during system development.
"We are excited to work with D3 Engineering on a development platform for our DMS solution," said Pradeep Bardia, senior director, business development - DMS at Xperi, parent company of FotoNation. "This new development kit will allow our customers the opportunity to develop against our system and the ability to deliver a product quicker to market."
Engineers developing automotive or industrial systems can use the kit to quickly evaluate and demonstrate the technology in the lab or in a vehicle. D3 Engineering supports rapid development of industrial engineering verification test (EVT) units or automotive A-Samples based on this production-intent design. D3 also provides full system development services to help companies take DMS products to market faster, with less risk.
Download the data sheet for more information: https://d3engineering.com/assets/uploads/data-sheets/autonomous-systems/D3Eng-DesignCore-DMS-DevKit-DataSheet.pdf
Price and Availability
The D3 DesignCore™ Driver Monitoring System (DMS) Development Kit is $8,000. It is available now at https://d3engineering.com/store/product/designcore-driver-monitoring-system-kit/
The FotoNation DMS + Iris Tracking Application Library with evaluation licensing is included in purchase of the kit. This software is delivered separately by FotoNation, under agreed licensing with FotoNation.
About D3 Engineering
D3 Engineering provides embedded electronic design services for original equipment manufacturers in the industrial, transportation, infrastructure and commercial sectors. Using its proven DesignCore™ platforms and proven stage-gate development process, D3 Engineering helps its OEM partners minimize the cost, schedule, and technical risks of new product development for performance-critical applications. Specializing in autonomous systems, embedded vision, and connected automation, D3 Engineering provides hardware design, firmware design, validation testing, and transition to production. Learn more at www.D3engineering.com.
About FotoNation
FotoNation, a wholly owned subsidiary of Xperi Corporation (Nasdaq: XPER), is a global leader in providing computational imaging, computer vision and facial analytics solutions. Its technologies have enhanced the digital imaging capabilities in more than 3.3 billion devices. FotoNation offers scalable software and hardware solutions in a flexible architecture to ensure its customers can build intelligent imaging capabilities into their devices. These capabilities enable devices to combine low-power, high performance and state-of-the-art functionality that deliver outstanding user experiences. For more information, please visit www.fotonation.com and www.xperi.com.
Featured Product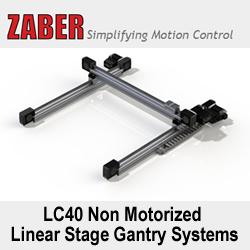 Zaber's X-LRQ-DE Series of linear stages have high stiffness, load, and lifetime capabilities in a compact size. The integrated linear encoder combined with stage calibration provides high accuracy positioning over the full travel of the device. At 36 mm high, these stages are excellent for applications where a low profile is required. The X-LRQ-DE's innovative design allows speeds up to 205 mm/s and loads up to 100 kg. Like all Zaber products, the X-LRQ-DE Series is designed for easy set-up and operation.