SMi reports: The third annual UAV Technology conference 2018 will focus on counter-UAV's
The increasing popularity of drones has brought increasing security threats including the growing hazard of commercial-off-the-shelf (COTS) unmanned systems being used by capable non-state actors. Matters have also been driven by the need to find cost-effective solutions for use against small UAS where otherwise higher-end missile defence capabilities might instead be used, at a cost of $3 million per missile [Shephard].

With this in mind, SMi's UAV Technology conference taking place on 26th and 27th September will not only address the development of these UAV's but also how to detect them, disrupt them and neutralise them whilst adapting to the increase in proliferation of these technologies. The US, Finland and the Czech Republic will all be presenting on these very topics:
Major Tapio Saarelainen, Research Staff Officer, R&D Department, Finnish Army Academy will present on "Research and Development: Countering UAV Intrusions and Controlling COTS UAV Proliferation".
Captain Sean Lynch, Electronic Warfare Officer, 2nd Cavalry Regiment, US Army will present on "Enhancing Electronic Warfare (EW) Capabilities and Protecting against UAS within US Army Europe".
Colonel (retd) Assoc. Prof., Ph.D., Miroslav Kratky, Senior Lecturer, Department of Air Defence Systems, Brno University of Defence, Czech Republic will present on "The C-UAS Technologies for the Present and foreseeable Future".
The Czech Republic, the US, Finland and France will also host an interactive panel discussion on:"Adapting to Emerging Threats and Developing Counter-UAV Technologies and Systems"
There is currently a £300 early bird registration discount for bookings made by 31st May visit: http://www.uav-technology.org/roboticstomorrowpr
UAV Technology
26th -27th September 2018
Prague, Czech Republic
http://www.uav-technology.org/roboticstomorrowpr
---ENDS---
For sponsorship and exhibition queries please contact Sadia Malick at smalick@smi-online.co.uk . For delegate queries please contact Andrew Gibbons at agibbons@smi-online.co.uk. For media queries please contact Natasha Boumediene at nboumediene@smi-online.co.uk.
About SMi Group:
Established since 1993, the SMi Group is a global event-production company that specializes in Business-to-Business Conferences, Workshops, Masterclasses and online Communities. We create and deliver events in the Defence, Security, Energy, Utilities, Finance and Pharmaceutical industries. We pride ourselves on having access to the worlds most forward thinking opinion leaders and visionaries, allowing us to bring our communities together to Learn, Engage, Share and Network. More information can be found at http://www.smi-online.co.uk
Featured Product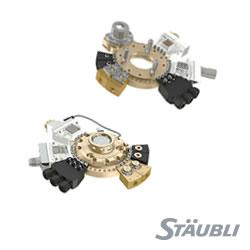 TX2 robots: redefining performance by offering collaborative safety and high performance in a single machine. These pioneering robots can be used in all areas, including sensitive and restrictive environments, thanks to their unique features. Safety functions are easy and inexpensive to implement. They allow a higher level of interactions between robots and human operators, while still guaranteeing protection of your people, production and investment.