The conference will convene innovators, entrepreneurs and business leaders to discuss how technology will impact the future of work.
MIT Technology Review today announced additional speakers and partners for its upcoming EmTech Next event taking place at the MIT Media Lab on June 4-5, 2018. The latest in the EmTech event series, this conference will focus on the future of work and how emerging technologies are augmenting human capabilities.

Advancements in artificial intelligence, robotics, virtual reality, and 3D printing are poised to dramatically change the future of work. The EmTech Next program will delve into technology's potential to empower the human workforce and open up new areas of economic growth, while also exploring its unintended consequences.
Speakers and discussion topics include:
Daron Acemoglu, Professor of Economics, MIT - AI's Economic Impact
Tye Brady, Chief Technologist, Amazon Robotics - Robots in the Workforce: The Benefits of Human and Robot Collaboration
Jason Furman, Professor of the Practice of Economic Policy, Harvard Kennedy School - Automation and the Future of Work: Will This Time Be Different?
Brad Smith, President, Microsoft - The Future Computed
Manuela Veloso, Professor, Carnegie Mellon University - Next-Generation Robots Need Your Help
Deloitte, one of the world's largest business consultancies and a leader in human capital consulting, will serve as the presenting sponsor of the inaugural conference. EmTech Next partners also include BIGfish Communications, MIT Solve, and Talespin. Media Partners include 3D Printing and Additive Manufacturing, Big Data, Soft Robotics, and Mary Ann Liebert Inc. Publishers.
Click here to learn more, see the full conference agenda and register for EmTech Next. Follow the conversation on Twitter using #EmTechNext.
Media who would like to cover the event should reach out to press@technologyreview.com to learn more about obtaining press credentials.
About The EmTech Event Series
MIT Technology Review's EmTech Event Series dives into emerging technologies that will drive the new global economy. From mainstage keynotes to Q&As and small discussions, these events provide a curated view of the year's most important developments. EmTech gives attendees the opportunity to discover future trends and learn from the most innovative people and companies in the world. Currently in its 18th year, EmTech events have become a must-attend for entrepreneurs, innovators, policy leaders, media and more. This year's upcoming EmTech events include EmTech Next, June 4-5; and EmTech MIT, September 11-14. Learn more.
About MIT Technology Review
Founded at the Massachusetts Institute of Technology in 1899, MIT Technology Review is a world-renowned, independent media company whose insight, analysis, reviews, interviews and live events explain the commercial, social and political impact of new technologies. MIT Technology Review derives its authority from the world's foremost technology institution and from its editors' deep technical knowledge, capacity to see technologies in their broadest context, and unequaled access to leading innovators and researchers. For 117 years, MIT Technology Review's mission has been to equip readers with the intelligence to understand a world shaped by technology and the impact upon their careers and lives. Subscribe. Follow: Twitter, Facebook, LinkedIn, Google+, Instagram.
Featured Product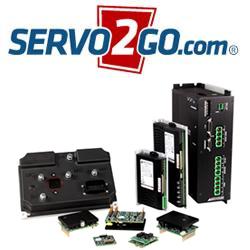 Engineered to drive brushless and brush servomotors in torque, velocity or position mode, Servo2Go.com offers a broad selection of servo drives in a wide range of input voltages and output power levels.