Affordable, highly accurate and extremely reliable sensing systems and controls are fueling the rise of AGV solutions for a wide range of material handling applications in warehouses, factories and industrial facilities
Sensata Technologies, one of the worlds leading suppliers of sensor, industrial control, power management and electrical protection solutions, today announced the availability of a new white paper (How Sensors are Moving Materials Handling Towards Safe Automation) that covers the rapidly evolving world of Automated Guided Vehicles and how new developments in sensor and guidance technologies are enabling AGVs to become an essential element for a wide variety of material handling applications.

This white paper examines some of the more interesting applications which are adopting AGVs and how a number of various navigation and sensor technologies are enabling this innovative material handling industry transformation especially in regard to industrial and warehousing applications.
This white paper covers the various types of AGVs, the market drivers, the various navigation and steering control technologies, as well as an look at the leading sensing technologies that enabling the rise in AGV solutions and systems.
What do developers of AGV solutions need to know about the latest industrial and warehouse sensor and navigation technologies?
This new Sensata white paper is available as a free download at https://www2.sensata.com/safe-material-handling
About Sensata Technologies
Sensata Technologies is one of the worlds leading suppliers of sensing, electrical protection, control and power management solutions with operations and business centers in thirteen countries. Sensatas products improve safety, efficiency and comfort for millions of people every day in automotive, appliance, aircraft, industrial, military, heavy vehicle, heating, air-conditioning and ventilation, data, telecommunications, recreational vehicle and marine applications. For more information, please visit Sensatas website at www.sensata.com.
Featured Product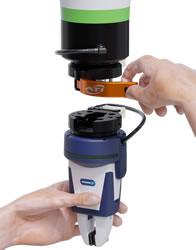 Simpler, stronger, and more precise. ATI Industrial Automation has developed a series of Manual Tool Changers that provides a cost-effective solution for quickly changing tools by hand. They feature a unique design that combines high strength, excellent repeatability, and a patent-pending screw-cam locking mechanism with multiple fail-safe features, which resists vibration and prevents loosening. These robust and compact Manual Tool Changers can handle payloads up to 80 pounds (36 kg) and pass pneumatics and electrical signals.