Sees Positive Results for its 2D and 3D Models of Tool and Equipment Solutions
ST. ROMAIN, FRANCE, May 30, 2018 - FACOM has committed to publish some of its product catalogs and CAD models on TraceParts and intends to make the platform a part of its marketing strategy. The company, manufacturer of tool and equipment solutions for automotive and industrial professionals, successfully started to use TraceParts in 2007 and nurtured the development of catalogs in 2017.

Having tried a variety of media over the years, FACOM was especially impressed with the positive results brought from publishing some of their product catalogs and CAD models on the TraceParts platform. But the biggest surprise came in the form of a benefit that wasnt expected. FACOM no longer had to field the many drafter and customer requests the brand get for specs and CAD models in different formats. Instead, they simply direct them to their listing on TraceParts hence a huge time savings.
Parts vendors are able to publish their complete catalogs and CAD models including 3D content onto the TraceParts platform. There drafters and engineers can evaluate their parts and see if they meet the specifications of their design project.
"The CAD models data for our components are published on TraceParts in neutral CAD formats. Using TraceParts technology, they can then be downloaded in 60+ different formats," said Jocelyn Vecchio, Director of Engineering Hardlines and Automotive specialties. "Its super convenient for designers. Plus were able to legally reuse or repurpose the data for our distributors, customers and other publishing platforms."
The TraceParts website has been online for more than 17 years with over 85 million CAD files delivered. In 2017 it had 4.3 million unique visitors, 10.8 million visits, and 77 million page views. It currently has 3.2 million registered users, who are mostly designers and engineers, and is continually adding to its user base.
For more information about marketing your products on the TraceParts platform or to become a TraceParts registered user with access to over 100 million CAD models, visit www.TraceParts.com or contact us at info@traceparts.com.
About TraceParts
TraceParts is one of the worlds leading providers of 3D digital content for engineering. As part of the Trace Group founded in 1989, the company provides powerful web-based solutions, such as CAD part libraries, electronic catalogs and product configurators.
TraceParts offers digital marketing services to help part vendors, 3D printing suppliers, software and computer hardware vendors promote their products and services and generate high-quality B2B sales leads.
The TraceParts portal is available free-of-charge to millions of CAD users worldwide. It provides access to hundreds of supplier catalogs and more than 100 Million CAD models and product datasheets that perfectly match the specific needs of Design, Purchasing, Manufacturing and Maintenance processes & operations.
Featured Product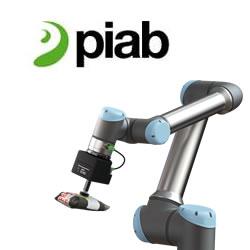 Piab's Kenos KCS gripper enables a collaborative robot to handle just about anything at any time. Combining Piab's proprietary air-driven COAX vacuum technology with an easily replaceable technical foam that molds itself around any surface or shape, the gripper can be used to safely grip, lift and handle any object. Standard interface (ISO) adapters enable the whole unit to be attached to any cobot type on the market with a body made in a lightweight 3D printed material. Approved by Universal Robots as a UR+ end effector.