Unlike other UGVs that are commonly able to perform mostly one task, the THeMIS is designed so it can be equipped with a vast variety of payloads to perform a number of different tasks.
The THeMIS unmanned ground vehicle (UGV) developed by Milrem Robotics has become the unmanned ground systems industries standard tracked UGV. During this years Eurosatory a record of four THeMIS UGVs will be displayed with three different applications.

In just a few years after the development of the THeMIS began, it has become the most sought after tracked unmanned ground vehicle on the market. It has caught interest from several weapon and other warfare systems manufacturers like Nexter, FN Herstal, ST Kinetics, Raytheon and Threod Systems with whom integration projects are underway or have already been completed.
Unlike other UGVs that are commonly able to perform mostly one task, the THeMIS is designed so it can be equipped with a vast variety of payloads to perform a number of different tasks.
These include functioning as a remote weapon station outfitted with large or small calibre weapons, detecting IEDs, operating as a drone platform or a remote surveillance station.
At Eurosatory three such integrated products will be exhibited: the THeMIS with Nexters ARX20 RWS, THeMIS with Threod Systems UAV and the THeMIS with deFNder RWS from FN Herstal. The latter will be exhibited at FN Herstals booth as well as at the dynamic demonstrations area.
"The Threod Systems Tethered UAV and THeMIS integration is a notable capability multiplier. The system provides a fully autonomous ISR tool for information collection, reporting, situational awareness and situational understanding. Moreover, the system works as a radio relay to extend network coverage in the area," stated Villiko Nurmoja, CEO of Threod Systems.
"OPTIO X-20 which is the combination of the THEMIS platform and our ARX20 - 20mm RCWS - makes a fantastically capable system by merging outstanding fire power and mobility capabilities," said Frédéric Bouty, Director of Strategy Department of NEXTER.
"The combined solution of deFNder® Medium and THeMIS, merging the technologies and expertise of our two companies, illustrates the potential of the concept", said Vincent Verleye, COO of FN Herstal. "The added value of such a weaponized robotic system is self-explanatory, and FN Herstal, as a leading defence weapon systems integrator, is proud to demonstrate the deFNder® Medium RWS during Eurosatory dynamic demonstrations alongside Milrem Robotics," he added.
"Milrem Robotics THeMIS has become very popular platform as we have been down selected in number of different assessment, development and testing programs in US, UK, Norway, Estonia and other countries," stated Kuldar Väärsi, CEO of Milrem Robotics. "The reason for that is the modularity, simplicity and robustness of our system. The next big step in our strategy will be related to autonomy and manned-unmanned teaming solutions."
Featured Product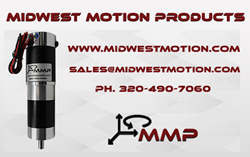 MMP specializes in supplying high-quality Brushed & Brushless DC Motors & Gearmotors for Robotics and Automation Equipment with a wide range of motor windings and gear ratios. With an impressive track record of more than 8,000 released DC Gearmotors designs and over 2,000,000 individual part numbers, we are renowned for our ability to handle large-scale orders. Due to our huge on-hand inventory, we are also well known for lightning-fast delivery of our standard products. We take pride in our dedicated customer service and our team of knowledgeable sales and engineering experts who are ready to assist you with custom design solutions tailored to your specific application. Additionally, we also offer a wide range of complimentary products, such as DC Motor Controls, DC Linear Actuators, AC-DC power Supplies, and DC Servo Amplifiers and others.