Reconfigurable and modular Industry 4.0 systems like the Festo Motion Terminal support today's shorter product lifecycle and small-lot-size production, and, through cloud-based predictive analytics, reduce risk of system failure. Festo Booth #1311
ISLANDIA, NY, (date) — The Festo Semicon West 2018 exhibit, July 10-12 at the Moscone Center, San Francisco, features the new Motion Terminal, an Industry 4.0 system capable of replacing 50 different components through the download of various combinations of cloud-based apps. Three in-booth systems demonstrate fast reconfigurability, which supports shorter product lifecycles and small-lot-size production. (Festo Semicon West Booth #1311)

Festo developed the Motion Terminal to seamlessly integrate computational algorithms and physical components. This new cyber-physical system enables the Industry 4.0 advantages of adaptability, scalability, resiliency, safety, security, usability, and cloud-based predictive analytics. Along with the Motion Terminal Festo exhibits supporting technology, including IO-Link enabled smart sensors, electric cylinders and drives, compact pneumatic valves and valve manifolds, a host of gripper styles, and the modular CPX control platform. Another key enabler of the Motion Terminal is the new Festo CPX-IoT gateway for preconfigured customizable dashboards.
Greater engineering productivity
In addition to the Motion Terminal, Festo emphasizes at Semicon West its expanded engineering productivity and custom solutions ecosystem. For example, The Handling Guide Online, is an online software tool that enables OEMs and end users, armed with basic parameter information such as load and speed, to design Cartesian robots in about 20 minutes. CAD files downloaded following the session allow design work on machine to continue while Festo assembles the robot or prepares completely kitted units. Average delivery time is about eight weeks.
The new Festo Stars of Automation Program will also be featured. Stars of Automation guarantees 24-hour shipment of core Festo products on a global basis, lowering downtime and reducing overhead. A Stars of Automation app streamlines ordering and offers many other logistic and purchasing benefits.
Additional Festo solutions demonstrated by Powermatic Associates
Powermatic Associates, Semicon West Booth #2422, expands the range of Festo components on display at Moscone Center. In addition to pneumatic and electromechanical product lines, Powermatic personnel are featuring its engineering and turn-key solutions capabilities.
###
About Festo
Festo is a leading manufacturer of pneumatic and electromechanical systems, components, and controls for process and industrial automation. For more than 40 years, Festo Corporation has continuously elevated the state of manufacturing with innovations and optimized motion control solutions that deliver higher performing, more profitable automated manufacturing and processing equipment.
Connect with Festo: Facebook, LinkedIn, Twitter and YouTube
Featured Product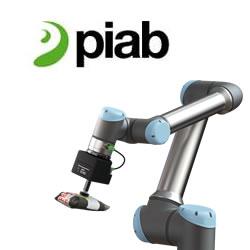 Piab's Kenos KCS gripper enables a collaborative robot to handle just about anything at any time. Combining Piab's proprietary air-driven COAX vacuum technology with an easily replaceable technical foam that molds itself around any surface or shape, the gripper can be used to safely grip, lift and handle any object. Standard interface (ISO) adapters enable the whole unit to be attached to any cobot type on the market with a body made in a lightweight 3D printed material. Approved by Universal Robots as a UR+ end effector.