The company launches its URCap for seamless Universal Robots integration
Asyril SA announces the go-live of their URCaps plugin on the Universal Robots+ Solutions platform.

Experts in flexible feeding systems, Asyril is known for its unique 3-axis vibration technology, high-end industrial vision system and precision robotics. Their award-winning Asycube Series, designed for optimal surface distribution of bulk parts and precise part detection, is compatible with all kinds of parts, including highly delicate parts and complex geometries.
Asyrils new URCaps plugin, available on the Universal Robots+ Solutions platform, guarantees a seamless and fast integration of any Asycube in conjunction with any Universal Robot. The control menus are directly accessible from the teach pendant, making it easy to use and quick to implement.
"Were always looking for ways to make life easier for our clients, so developing the URCaps plugin was a logical step for us. Integration of our Asycubes with a Universal Robot has never been easier." says Aymeric Simonin, Asyril Product Manager.
The Asyril URCap development marks a new phase in the long-term partnership between the collaborative robots manufacturer Universal Robots and the flexible parts feeding expert. Asyril CEO Alain Codourey: "We completely support URs philosophy to render robots more collaborative and safer for humans. We are delighted to be part of the UR+ Solutions platform, giving our clients a high-quality and hassle-free integration of our Asyril technology."
Asyril URCap details can be accessed directly on the UR+ Solutions platform.
About Asyril
Asyril develops, produces and markets high performance flexible feeding systems for parts and components from 0.1 up to 150 mm in size. Asyril's key competencies and extensive know-how encompass all three sub-domains of modern part feeding systems: vibration technology, industrial vision and precision robotics. Asyrils technology has enabled key industry players in Europe, America and Asia gain competitive advantage and a fast return on investment.
About Universal Robots URCaps
Caps are "the new black" in the industry. Caps are to robots, what apps are to smartphones: useful accessories, hardware and software extending the capabilities of UR robots. Solutions from URCaps offer both distributor and end-user the security and predictability that applications will run well from the start.
Featured Product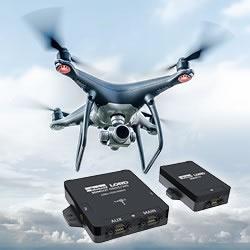 The C-series high performing inertial sensor package provides an OEM form-factor that is optimized for size and weight in Off Highway, Unmanned Ground Vehicles/Mobile Robots and Unmanned Aerial Systems. It's compact and low-profile anodized aluminum housing can be connected directly to a printed circuit board using a UART header or a Samtec FFSD ribbon cable and 2-56 fasteners.