Global automation and robotics expert, ABB has announced the appointment of Darcy Simonis to the position of industry network leader for its food and beverage operations. She succeeds Markus Brettschneider, head of segment and account management who previously held the role.
Darcy joins ABB from Pentair, where she has held several roles since 2002 including food services sales director for the Americas as well as platform director for food and beverage. Darcy most recently held the role of senior sales director leading the food and beverage and industrial teams in the Americas.

In her new role at ABB, Darcy will continue to develop and strengthen ABBs global food and beverage business. She will drive the ambitious growth plan together with the food and beverage country and business leads to achieve a market leading position for ABB in the industry over the next three years
"Im very excited to have such a fantastic opportunity to lead ABBs global food and beverage network, and I am looking forward to being part of a technology partner which is helping F&B customers power, automate, and digitalize their plants, processes, and production," said Simonis.
"The food and beverage industry has been slow to adopt digital technologies within the manufacturing process, however it is our job to educate and inform them on how Industry 4.0 technologies can truly revolutionize processes, improving both efficiency and profitability. Exciting times lie ahead for the industry and Im pleased to be part of it."
"Darcy brings with her a deep knowledge of the food and beverage industry, with an OEMs background and perspective," added Markus Brettschneider, head of segment and account management. "Together with the country food and beverage teams and our growing customer base, Darcy is well positioned to lead and grow our food and beverage business."
Simonis will be based Chicago, Illinois, in the United States.
For more information about ABBs products and services for the food and beverage industry, visit http://new.abb.com/food-beverage.
Featured Product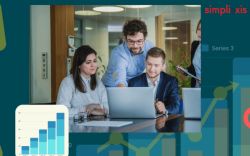 Challenges on the loading dock are characteristic of greater pressures from the rise of e-commerce. Loading and unloading freight from trailers, trucks and shipping containers are arduous, repetitive tasks plagued by high turnover. Even with regularly available staff, manually unloading freight and the constant lifting and twisting results in fatigue and inconsistent, declining productivity. Robotics capable of fully automating unloading tasks bring a new paradigm to the dock. High performance and flexibility push unloading from a labor-heavy, manual chore to an automated, refined process. High-performing DC workers can take more desirable positions, with relief from unpleasant work conditions. Management gets to replace uncertainty and staffing challenges with a reliable, automated process, with data to fuel continuous improvement.