CHICAGO, IL — The Americas' leading conference and trade show for electric motors, generators and transformers has expressed its long-term commitment to working together with attendees to shape its future. Based on their feedback, the annual event returns October 2-4, 2018 to the Donald E. Stephens Convention Center in Rosemont, Illinois, with an all-new educational program and improved networking opportunities to help better meet their needs.
The U.S. production market for electric motors, transformers and generators (EMTG) is the second-largest globally. Add in Canada, Mexico and Latin America and the EMTG community in the Americas as a whole is a powerhouse of production for the automotive, construction, HVAC and power generation industries.

To be the active and contributive member of this large and influential community that CWIEME Chicago strives to be, the show organizers have to sit up and listen. And thats exactly what theyve done.
Over the past year, CWIEME Chicago has carried out extensive research and held focus groups with attendees to thoroughly understand the challenges the community faces today and bring them the show they want and need.
"Right now, the opportunities for the EMTG community in the Americas are the best they have been in the past century, but growth remains largely flat. By providing knowledge and opportunities to connect at CWIEME Chicago, we want to support manufacturers and suppliers in the Americas as best we can to reach their potential - and theres no better partner in this than our own attendees," said Alison Jackson, managing director of the CWIEME Global Series.
More structured educational program
Balancing higher performance with lower cost is an ongoing focus for the EMTG community. This places greater pressure on the materials supply chain to produce more reliable and efficient materials and for designer engineers to come up with innovative new ways of using them.
In response to this challenge, the first two CWIEME Connect seminars of each day (which will begin earlier than in 2017) will provide a chance for suppliers - of magnet wire, coatings, laminations, steel, magnets and battery technology - to put forward their R&D teams and explain whats new in their respective specialist areas.
At the same time, EMTG applications are evolving. Electric motors are increasingly used as an alternative to combustion engines in electric/hybrid cars, trains and even airplanes, while the development of renewable energy technologies (e.g. wind and solar) is opening up new markets for transformers and generators. Increasing automation in a broad range of industrial and consumer products is also driving demand.
The next four CWIEME Connect sessions of each day will help attendees to understand these new applications and spark innovation through explanations of the latest trends and case studies of brand-new technologies or ventures. A particular highlight is set to be a presentation by Zunum Aeros chief engineer on the companys first hybrid-electric airplane.
The lunchtime slot will be devoted to overviews of the electric motor, electric vehicle, and transformer and generator markets, after which attendees will have more time to network and make new contacts either on the show floor or at series of pitches in the CWIEME Connect Theater.
"We have restructured our seminar program and started it earlier in the day to enable attendees to get more out of their time at the show," said Chloe Theobald, senior global content manager for CWIEME. "Weve also refined our choice of topics and speakers in line with the main challenges and priorities cited by attendees in their feedback. We are listening and evolving."
The CWIEME Big Innovation Pitch
The U.S., in particular, is among the advanced economies that invest the most in talent and technology, making it a global leader in R&D activities. The U.S. is also home to an increasing number of start-ups - many focusing on e-mobility, but others specializing in wider e-motor technology, such as thermal management or design simulation programs. CWIEME Chicago aims to reflect and help nurture this innovation through a new feature, the CWIEME Big Innovation Pitch.
Each afternoon, eight teams will be selected to pitch their ideas in just seven minutes, after which the CWIEME audience will have the opportunity to ask questions and delve deeper into the topics and network.
"We would strongly recommend for companies to bring their whole team - junior and senior engineers - and use the time to meet as many people and hand out as many business cards as possible," Theobald said. "We are part of a lively community and these short pitches are a way of bringing OEM incumbents together with two-man start-ups in the electrical engineering and manufacturing space. Its the perfect environment for new partnerships to unfold and ground-breaking ideas to become reality. Beyond the event, innovators could even reach up to 100,000 industry professionals through inclusion in our email campaigns, printed show guide, social media pages and on our website. Its potentially a very powerful platform."
Applications to take part in the CWIEME Big Innovation Pitch are free-of-charge and can be made on the CWIEME Chicago website.
"The EMTG community in the Americas has never faced as many challenges and opportunities as it has today. Technologies and applications are changing at a fast pace and it is essential that CWIEME Chicago changes too in order to support the community in the best way. We are very much looking forward to welcoming attendees to the Donald E. Stephens Convention Center this fall so that we can all learn something and meet someone new to further an industry whose innovations are radically changing the way we live, work and travel today," Jackson concluded.
Featured Product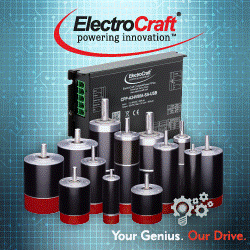 ElectroCraft exhibits its motion control product offer at Robotic related events at trade show and demonstrations across the world. We attend these events and conferences not only to show our motor and drive product offering, but to discuss and learn more about challenges involved with developing commercial robotics across markets.