IMTS 2018 - Visit Booth # 134752 in IAMD USA - East Building, Level 3
Mencom 1 1/8" MIN size III series circular connectors have been redesigned to deliver better connectivity and stability in harsh factory environments. Since MIN style connectors, sometimes referred to as Brad Mini-Change connectors, were introduced in 1968 as a way to quick-connect limit switches and pneumatic valves in the automotive industry, the Mini-Change connectors have been utilized in a wide range of industrial applications, including but not limited to, food & beverage, automated assembly, packaging and material handling equipment to name a few.

Although the original Mencom straight MIN size III cordsets satisfied the demanding requirements of the industrial control networks and applications, Mencom has continued to improve the quality and usability of these connectors. As a result, the original connector has been redesigned to better suit rugged environments. The coupling nut has been enlarged, which not only makes the installation process easier by giving a wider knurl area for better gripping, but also provides a more stable connection.
In addition, the coupling nut material has changed from anodized aluminum to nickel plated brass. The new brass coupling nuts are corrosion, salt and weld slag resistant, and are more durable to withstand harsh conditions than the old aluminum coupling nuts. Due to brass's high melting point (1600F-1700F), the new coupling nut is more resistant to high temperatures, making them more resistant against warping and deforming and providing a longer lifespan. For extreme chemical conditions, stainless steel coupling nuts with the oversized design are also available.
Mencom MIN Size III connectors are UL listed and rated IP67, which is suitable for harsh environments. These connectors are available in multiple pole configurations including 9, 10, 12 and 19 pole. The cables are made with PVC, PVC TC-ER or rugged PUR jacket material with many standard shelf lengths. An optional male threaded coupling nut for the male cordset is also available.
For more information, please visit www.mencom.com.
Featured Product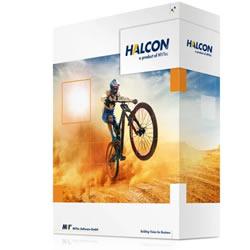 MVTec HALCON is the comprehensive standard software for machine vision with an integrated development environment that is used worldwide in all kind of industries. It enables cost savings and improved time to market. HALCON's flexible architecture facilitates rapid development of any kind of machine vision application. The software provides outstanding performance and a comprehensive support of multi-core platforms, special instruction sets like AVX2 and NEON, as well as GPU acceleration. The latest version HALCON 19.11 offers a wide range of new and improved machine vision functions. Particular emphasis was placed on the integration of further deep learning features. Now users benefit from massive simplifications for their applications, like faster inspection with anomaly detection, more transparency with the Grad-CAM heatmap and the support of ONNX format.