With its decades of industrial computing experience and highly talented R&D team, NEXCOM has spun off a dedicated company that is committed to being a trustworthy partner in building open and modular intelligent robot control and machine automation solutions.
The awakening of Industry 4.0 has greatly influenced global economy. With over two decades of industrial computing experience, NEXCOM has committed to prevailing in the revolution and dedicating resources to transform itself to an innovative Industrial IoT and robot & motion solutions provider. For the past six years, NEXCOM has invested numerous resources to gather the know-how to design cobot solution for the market need and solidify its position in this business segment. At IMTS co-located show Hannover Messe USA, NEXCOM will unveil its newest company dedicated to this movement—NexCOBOT.

Hannover Messe USA, along with IMTS, will take place over 6 days from September 10-15, 2018, at McCormick Place in Chicago, Illinois. IMTS draws 2,400 exhibiting companies and 115,000 attendees from 117 countries, making it the must-attend show for manufacturing in North America. NexCOBOT will have the pleasure to make its debut in Hannover Messe USAs Integrated Automation, Motion and Drives section on the second level of the East Building, booth #121836.
Visitors to NexCOBOTs booth can expect to see a total Industrial IoT solution with AI robot control and a cloud-based automation control system compatible with SCADA and Microsoft Azure. Other smart manufacturing demonstrations will include a facial recognition solution for access control to restricted areas such as factory floors, a predictive diagnostics maintenance kit, as well as a partner zone to cap off NeCOBOTs and NEXCOMs comprehensive intelligent automation solutions.
To receive an invitation link for VIP registration that includes free entrance to Hannover Messe USA and IMTS, as well as full-conference pass and daily lunches, contact NexCOBOTs US marketing manager at khangpham(at)nexcobot.com with full name, title, company, full address, telephone number and email address. Once registered, be sure to visit NexCOBOT at booth #121836 in the East Building, level 2, September 10-15, 2018, at McCormick Place in the "Windy City," Chicago.
Featured Product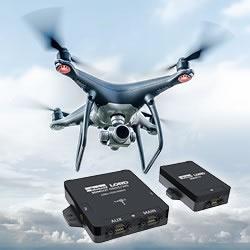 The new complete inertial navigation solution comes with GNSS/INS 3DMGQ7 sensor, 3DMRTK correction modem and real time SensorCloud RTK correction network. The sensor comes with Dual antenna GNSS, tactical grade IMU with centimeter-level accuracy with RTK. Low profile and light weight at 78 grams, this sensor is The sensor is optimized for size and weight in Unmanned Ground Vehicles, mobile robots and autonomous vehicles. The network interface 3DMRTK modem is seamlessly integrated into the 3DMGQ7 sensor supports industry-standard NMEA and RTCM 3.1 protocols. The network RTK support comes with cellular data plan. The SensorCloud RTK is a cloud-based RTK correction system with private encrypted data stream. Check out our G Series and C Series OEM products.