Achieving 100% Quality at IMTS 2018, September 11, 2018, at 3:15 - 4:10pm, in Room: W196-B
On Tuesday, September 11, 2018, at 3:15 - 4:10pm, in Room: W196-B, SMAC Eastern Sales Manager, Steve Curtiss, will be speaking on new technology that can help you achieve 100% quality.

This presentation will include:
• A discussion of new technologies that are rapidly changing how automated quality checks are realized.
• How to check small, critical parts inline.
• A method to give similar switches the same tactile response for improved user experience.
• A unique solution to common capping problems.
• A live Q&A session with presentation attendees.
Please note that access to the IMTS 2018 Conference is not included in the basic Visitor registration. Visitor registration only gives you access to the Exhibit Hall.
SMACs built in sensor feedback system gives SMACs Moving Coil Actuators the unique mechatronic ability to "do work and verify its success at the same time." This would allow the actuators to quality check key processes 100% in real time and feedback the results.
SMAC Moving Coil Actuators are true "mechatronic solutions." By that they mean their actuators have unique capabilities such as programmable and controllable position, velocity, and force, high accelerations, cycle life well over 100M, and a patent-pending "Soft-Land" capability. The Soft-Land capability is particularly useful when performing fragile part assembly, measurement, moving objects, etc.
Throughout IMTS 2018, you can find SMAC Moving Coil Actuators in the East Building, Level 2, at Booth # 121368.
Featured Product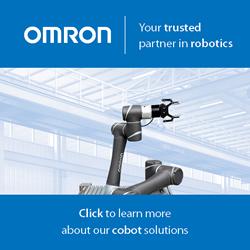 Humans and robots can now share tasks - and this new partnership is on the verge of revolutionizing the production line. Today's drivers like data-driven services, decreasing product lifetimes and the need for product differentiation are putting flexibility paramount, and no technology is better suited to meet these needs than the Omron TM Series Collaborative Robot. With force feedback, collision detection technology and an intuitive, hand-guided teaching mechanism, the TM Series cobot is designed to work in immediate proximity to a human worker and is easier than ever to train on new tasks.