Young people will get a hands-on opportunity to work with ABB robots in Interactive Learning Labs at IMTS Smartforce Student Summit
Robots have become ubiquitous to efficient, flexible manufacturing. In addition to helping companies grow, this trend is creating demand for robotic automation experts. ABB is helping prepare people for exciting new career possibilities through an education program that certifies students in the programming, safe operation and maintenance of industrial robots.

Students from universities, community colleges, technical colleges and high schools can get a hands-on preview of ABBs educational program and meet ABB training and education experts in the IMTS 2018 Smartforce Student Summit, September 10th -15th at McCormick Place in Chicago (Booth #215323, North Building, Level 1).
At the Summit ABB will host four interactive Learning Labs each day to educate attendees on the basics of industrial robotics and features of ABBs robotic portfolio. The sessions include: Introduction to Industrial Robots, Collaborative Robotics, YuMi® Lead-Through Teaching and RobotStudio® Virtual Reality/Augmented Reality.
Attendees will learn more about collaborative automation and have an opportunity to program ABBs YuMi dual arm collaborative robot, as well as interacting with robots in a 3D virtual world through an immersive ABB RobotStudio virtual reality demonstration.
In addition to the Learning Labs, visitors to the ABB booth at the IMTS 2018 Smartforce Student Summit will get a firsthand look at FlexTrainer - a pre-engineered cell with the latest in automation software and robot technology to train students as well as professional operators in advanced manufacturing applications.
The ABB education program package includes a complete curriculum with all necessary course materials and a fully operational FlexTrainer cell, offered to qualifying schools at a reduced cost. With the majority of the coursework conducted in a lab setting, the cell is deeply integrated into the program curriculum.
The program also has a comprehensive training and certification component that qualifies professors and teachers to teach the courses to their students, even when they have little or no robotic experience. In the last year over 50 educational institutions have been trained through the ABB education program.
The greatly expanding adoption of industrial robotics will continue to create an abundance of related skilled-employment opportunities. On a global basis ABB has partnerships with 70 universities and fully supports the need for higher education institutions to have a comprehensive robotics curriculum as a primary part of their STEM initiatives.
For information on and registration for the Smartforce Student Summit please visit: https://www.imts.com/student/
For more information on ABBs robotic education program please contact Nadja Koehler at 248-393-7257 or nadja.koehler@us.abb.com, or visit www.abb.us/roboticstraining.
ABB (ABB: NYSE) is a pioneering technology leader in electrification products, robotics and motion, industrial automation and power grids, serving customers in utilities, industry and transport & infrastructure globally. Continuing a history of innovation spanning more than 130 years, ABB today is writing the future of industrial digitalization with two clear value propositions: bringing electricity from any power plant to any plug and automating industries from natural resources to finished products. As title partner of Formula E, the fully electric international FIA motorsport class, ABB is pushing the boundaries of e-mobility to contribute to a sustainable future. ABB operates in more than 100 countries with about 135,000 employees. www.abb.com
ABB Robotics is a pioneer in industrial and collaborative robots and advanced digital services. As one of the worlds leading robotics suppliers, we are active in 53 countries and over 100 locations and have shipped over 400,000 robot solutions in a diverse range of industries and applications. We help our customers to improve flexibility, efficiency, safety and reliability, while moving towards the connected and collaborative factory of the future. www.abb.com/robotics
Featured Product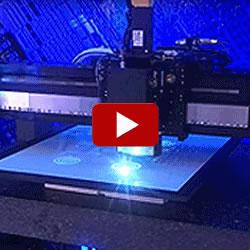 PI provides standard and custom linear, rotary, and spherical air bearing systems. They are available with 3-phase motors or voice coil motors, integral optical linear encoders. Our air bearings / and systems serve OEM, industrial, and research markets.