VDMA Machine Vision records a 17 per cent rise in turnover / Success of the industry again produces record numbers for VISION 2018
In 2017 the German machine vision industry achieved a record turnover of €2.6 billion, i.e. an increase of 17 per cent compared with the previous year. Turnover in the industry has therefore doubled within ten years. This is reported by the VDMA Machine Vision, sector group of the Mechanical Engineering Industry Association. According to VDMA Machine Vision, the reason for the boom is that machine vision technology "made in Germany" is not only being used to an increasing extent in global automation competition in traditional sectors of industry, but is also conquering entirely new industries. The industry-driven platform expects growth to continue in 2018 with a 7 per cent increase in turnover to €2.8 billion.

This development is also being felt by Messe Stuttgart as the organiser of VISION, the leading world trade fair for machine vision. VISION has been expanding continuously for years and will also again break the records from 2016 this year: for example, the amount of rented exhibition space in 2016 rose for the first time to more than 11,000 square metres and will increase again in 2018 to over 12,000 square metres. The gallery in the L-Bank Forum (Hall 1) will therefore also contain exhibition stands for the first time. The number of exhibitors, i.e. more than 460, will also beat the record of 440 companies from 2016. Around 25 per cent of exhibitors will take part in VISION 2018 for the first time, a very pleasing aspect for Messe Stuttgart and also an expression of the dynamic development of the machine vision industry.
Trend towards internationalisation still continuing
The international structure of VISION is a clear indication of its status as the leading world trade fair. In 2016, 57 per cent of exhibitors came from abroad while the proportion this year will exceed 60 per cent. A continuing trend towards internationalisation is also confirmed by the latest figures from the German Engineering Federation (VDMA): whereas the turnover of the machine vision industry on the German market grew by 8 per cent in 2017, exports rose by 23 per cent. The two most important export countries were still China and North America which, together, make up 26 per cent of the total turnover in the German machine vision industry.
"As a driving force for Industry 4.0, machine vision is now indispensable in modern factories and has long been part of our everyday life," said Dr. Olaf Munkelt. "Whether traffic management systems, autonomous driving, rubbish separation, recycling or health care, machine vision make them all possible. Embedded vision in combination with deep learning is stimulating additional growth." This estimation is also shared by Florian Niethammer, VISION Project Manager: "The trend topics in the industry will also naturally be some of the focal points of VISION. Industry experts, but also trade visitors who have hitherto had few affinities with machine vision, will therefore have the opportunity to be inspired by practical examples, discuss their challenges and requirements with experts, and obtain ideas for innovative applications in their own work."
About VDMA
VDMA represents more than 3,200 mostly medium-sized companies in the mechanical and plant engineering sector. With 1.35 million employees and sales amounting to approximately 224 billion euros (2017), the sector is the largest industrial employer in Germany and one of the leading German industrial sectors. As part of the VDMA Robotics + Automation association, VDMA Machine Vision has more than 115 members: vendors of machine vision systems and components as well as integrators. The objective behind this industry-driven platform is to support the machine vision industry with a wide range of activities and services. Its work priorities include statistical analyses and the annual market survey, marketing and standardisation activities, public relations, networking events and conferences, as well as trade fair policy. VDMA MV is conceptual sponsor of the VISION - leading trade fair for vision. More information is available at www.vdma.org/vision.
New multimedia report "Seeing machines": in the VISION year, the German Engineering Federation (VDMA) has published a multimedia report which describes how machine vision has been consequently opening up advanced opportunities for people in all areas of everyday life and how "seeing machines" will influence our lives to an ever increasing extent in the near future. From 3 September 2018 onwards, you can find "Seeing machines" here online as part of the "Humans Machine Progress" Project of the VDMA.
About VISION
VISION, the leading world trade fair for machine vision, will be held this year in Stuttgart from 6 to 8 November 2018. Staged every two years, the trade fair covers the entire spectrum of machine vision technology. In addition to first-class exhibitors, VISION has always been characterised by its strong international character and a varied accompanying programme: one permanent fixture at the trade fair will also be held again this year, i.e. the "Industrial VISION Days", the world's largest talk forum for machine vision. Other highlights include the "Integration Area", the special show on "International Machine Vision Standards" under the aegis of the EMVA, and the IPC4 Vision stand showcasing industrial PCs (IPCs).
Featured Product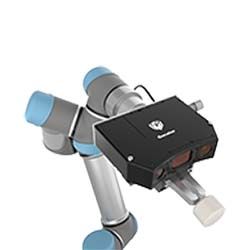 Easily integrate Gocator® 3D line profile and snapshot sensors with a variety of industrial robots to deliver high-performance 3D results in vision guidance, flexible inspection, material dispensing, and automated assembly with smart pick-and-place. Adding 3D vision to a robot turns repetitive, fixed motion into smart movement that can unlock greater value for your automation investment.